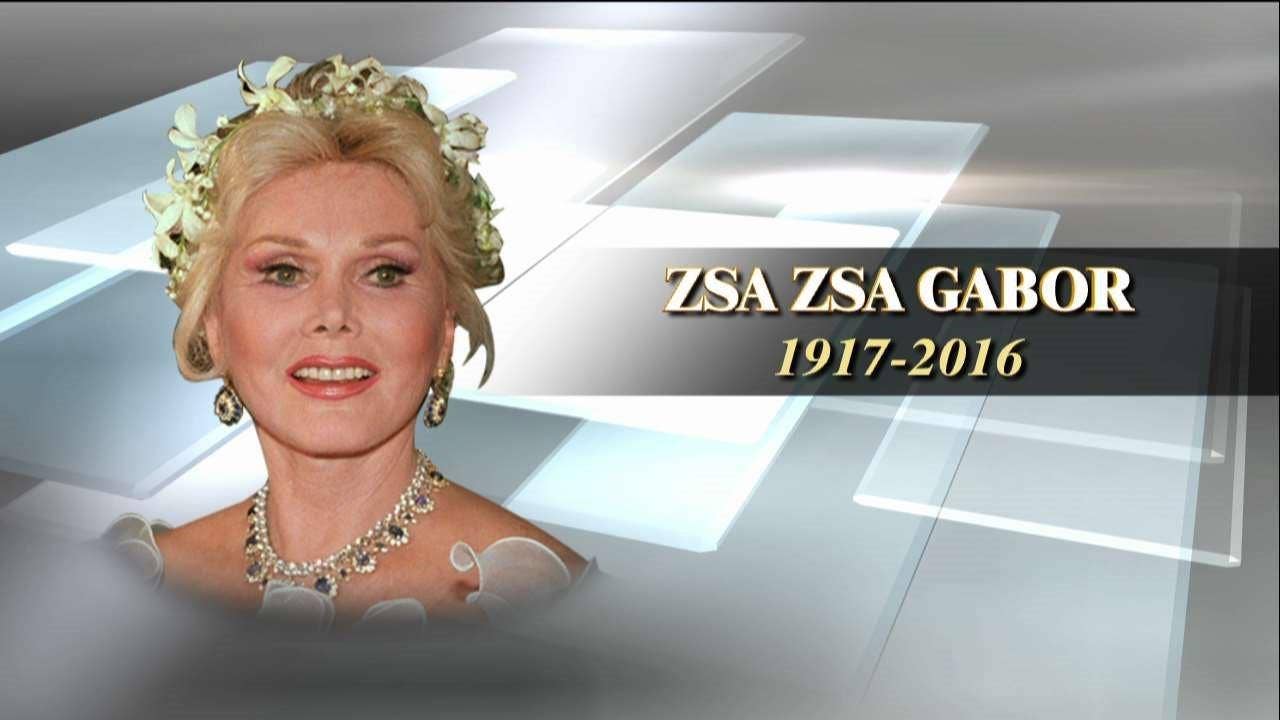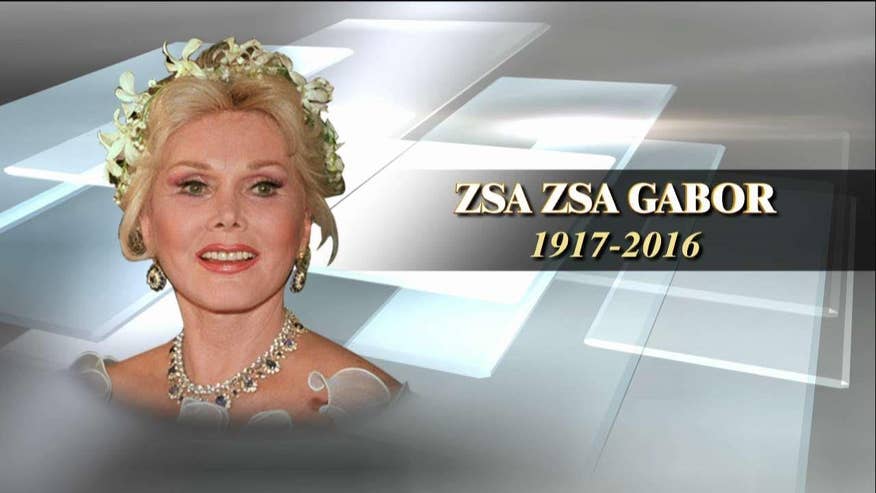 Zsa Zsa Gabor, the curvy blonde actress known for her intriguing personal life, including nine marriages, her breathy accent and her habit of calling everyone "darling," died Sunday. She was 99.
The middle and most famous of the sisters Gabor died Sunday of a heart attack at her Los Angeles home, husband Frederic von Anhalt told The Associated Press.
"We tried everything, but her heart just stopped and that was it," he said. "Even the ambulance tried very hard to get her back, but there was no way."
The great aunt of Paris Hilton and a spiritual matriarch to the Kardashians and other tabloid favorites, Gabor was the original hall-of-mirrors celebrity, famous for being famous for being famous. Starting in the 1940s, she rose from beauty queen to millionaire's wife to minor television personality to minor film actress to major public character. With no special talent, no hit TV series such as her sister Eva's "Green Acres," Zsa Zsa nevertheless was a long-running hit just being Zsa Zsa — her accent drenched in diamonds, her name synonymous with frivolity and camp as she winked and carried on about men, dahling, and the droll burdens of the idle rich.
She was like popcorn for the public and, for sociologists, the seeming fulfillment of the mindless future imagined in Aldous Huxley's "Brave New World," a creation made possible by mass, electronic media; her words and image transcribed and beamed into theaters and living rooms, on the internet and the shelves of newsstands and supermarket checkout lines.
JOHN GLENN TO BE BURIED AT ARLINGTON NATIONAL CEMETERY
In 1998, cultural historian Neal Gabler diagnosed her kind of celebrity as "The Zsa Zsa Factor."
"When she first came to fame in the early 1950s, Zsa Zsa wasn't an actress or a singer or a dancer or an entertainer of any sort," he observed. "She was the beautiful wife of actor George Sanders who happened to appear on a quiz show dispensing offhanded advice to lovelorn viewers. By being herself she became such a success that she immediately landed movie roles."
Her secret, in part, was being in on the joke, once saying about a 1956 TV role, "I play a fabulously rich woman who has just bought her fifth husband; she is very unhappy. I won't tell you who it's supposed to be." Ever game for a laugh, Gabor spoofed her image in a videotaped segment on David Letterman's "Late Show," which had the two stars driving from one fast-food restaurant to another, sipping sodas and digging into burgers like they were slabs of wedding cake.
Gabor's film career was, as The Film Encyclopedia notes, "mostly decorative." Among her more prominent credits: as dancer Jane Avril in John Huston's Toulouse-Lautrec biopic, "Moulin Rouge," 1952; and Orson Welles' classic "Touch of Evil," 1958. More recently, she appeared in the "Nightmare on Elm Street" series and in the "Naked Gun" spoofs.
Amid all the trivia, she had a peripheral part in two big scandals of the early 21st century: the death of Anna Nicole Smith (von Anhalt claimed to have had an affair with her) and the alleged financial scam of Bernard Madoff (a lawyer said she might have lost $10 million through him). And she was in the spotlight for a dustup from the late 20th century: "The slap heard `round the world."
In June 1989, Gabor smacked Paul Kramer, a police officer, on a Beverly Hills street, after he pulled over her Rolls-Royce Corniche convertible for a traffic violation. She was convicted of misdemeanor battery on a police officer, driving without a driver's license and having an open container of alcohol in the car. She served three days in jail, performed community service at a woman's shelter and paid $13,000 in fines and restitution.
When she was freed, she told reporters the jailers were kind but "at first I was petrified. They even took my makeup away."
Gabor kept up the act in the advice book "How to Catch a Man, How to Keep a Man, How to Get Rid of a Man," and in the exercise video, "It's Simple Darling," in which she banters and stretches with a pair of muscular young trainers. Her memoir, "One Life Is Not Enough," came out in 1991 and dished about everything from her virginity (gone at 15) to the endless men who came on to her (She would claim that William Paley of CBS promised Gabor her own show if only she would spend an afternoon with him.)
Gabor had one child, Francesca Hilton, from her marriage to hotelier Conrad Hilton. (She would allege the child was conceived after Hilton raped her.) In later years, Gabor, von Anhalt and Francesca battled in court over family finances. Francesca Hilton died of an apparent stroke in 2015.
The actress was born Sari — Zsa Zsa was a family nickname –Gabor in Budapest on Feb. 6, 1917. She, along with her sisters Eva and Magda, and their mother, Jolie, emigrated to America around World War II. Zsa Zsa gained notice when she became the wife of Hilton, whom she married in 1942 and by the following decade all the Gabors were celebrities. (Eva died in 1995 at age 74. Mother Jolie died in April 1997 at age 97 and sister Magda died two months later at age 78).
In 1954, Gabor made headlines being seen with Dominican Republic playboy-diplomat Porfirio Rubirosa within weeks of his marriage to dime store heiress Barbara Hutton. Her 1958 romance with Rafael Trujillo Jr., son of the Dominican dictator, became a scandal in Congress. Ohio's Rep. Wayne Hays — eventually caught in his own adulterous affair — cited the expensive gifts Gabor was allegedly receiving from the young man to argue that foreign aid for the island nation should be eliminated.
She wed eight times — nine including a 1982 shipboard ceremony that was quickly annulled and may not have been legal. Other husbands included businessman Herbert L. Hutner and prolific inventor Jack Ryan, credited with designing everything from missiles to the Barbie doll. She is survived by von Anhalt, whom she married in 1986.
Part of Mama Jolie's advice to her daughters, as recounted in a 1953 Associated Press interview with Zsa Zsa, has a modern touch. She said she told them: "You must be independent and able to do for yourself. Then you do not have to marry a rich man, you can marry a poor one. And if it is wrong, you can go."
"I am a marvelous housekeeper," Zsa Zsa once said. "Every time I leave a man I keep his house."
She also noted, "Husbands are like fires. They go out when unattended."
She regularly appeared on the talk show "The Merv Griffin Show" during the 1960s and 1970s, and one of her most recent medical problems began while she was watching Griffin's other notable TV creation, "Jeopardy." She broke her right hip and suffered a concussion in July 2010 when she fell out of bed while watching the quiz show. At one point, she received last rites.
Her now-deceased publicist, John Blanchette, told NewsCore after her initial fall, "She has been bedridden since her accident in 2002," referring to a car accident that left the actress partially paralyzed and forced her to use a wheelchair.
She also suffered a stroke in 2005.
In November 2011, she was rushed to the hospital after bleeding from the feeding tube in her stomach, according to her husband. That incident came only a month after she was taken to UCLA Ronald Reagan Medical Center, where she previously had been admitted multiple times, after losing consciousness.
Gabors right leg was amputated that same year after powerful antibiotics failed to clear up an infection. She was again hospitalized after screen legend Elizabeth Taylor died in March of that year. Gabor was quoted at the time as saying she feared she would be the next to go.
The Associated Press contributed to this report.
Read more: http://www.foxnews.com/entertainment/2016/12/18/zsa-zsa-gabor-dead-at-99.html