We hate to be the ones to break it to you, but the eggs you just bought at the grocery store are probably not as fresh as you might think they are. Think about it: they had to be laid, processed, shipped and stocked. This is definitely done with an amazing amount of speed, but still: not as fresh as you think.
So how fresh are they? There's a real simple test you can do to find out. Just drop an egg in a glass of water. If it's fresh, it'll sink. If it's old, it'll float. But what about if it's somewhere in the middle? We found a chart that'll help you determine just how fresh (or not so fresh) your eggs really are. Check it out and then make your decision on what to do with it.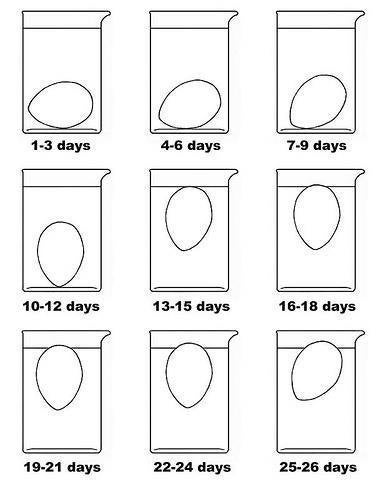 And just an FYI: fresh eggs are really good for frying — like in some of the recipes below — or for turning into sauces. Not-so-fresh eggs are better for hard boiling (they're so much easier to peel!).
1

Chorizo Eggs Benedict With Honey Chipotle Lime Sauce

Half Baked Harvset

2

Scrambled Eggs And Sausage Breakfast Burrito

Foodie Crush

3

Soft-Boiled Eggs With Asparagus Soldiers

The Clever Carrot

4

Polenta With Caramelized Mushrooms, Marinara, Fried Eggs And Goat Cheese

Half Baked Harvest

5

Bacon Egg And Cheese Biscuit Sandwiches

Foodie Crush

6

Scrambled Egg And Roasted Asparagus Toasts

Foodie Crush

7

Breakfast Tostadas With Cumin-Roasted Fingerling Potatoes

Foodie Crush

James Ransom/Food52

9

Mediterranean Breakfast Strata

Foodie Crush

10

Stacked Breakfast Enchiladas

Foodie Crush

11

Chickpea, Spinach And Chorizo Frittata

James Ransom

James Ransom

Simply Recipes

The Faux Martha

15

Petite Pea Omelet With Mint And Mascarpone

James Ransom

Melanie.Einzig/Food52

17

Sweet Corn Cake Eggs Benedict With Avocado Hollandaise

How Sweet It Is

How Sweet It Is

19

Grandma's Scrambled Eggs

Foodie Crush

Bev Cooks

Steamy Kitchen

22

Avocado Y Huevos Caliente

Angela @ the well-worn apron

23

Tomato-y, Yogurt-y Shakshuka

James Ransom

PistachioDoughnut

25

Fontina And Spinach Baked Eggs

How Sweet It Is

OB Cookie

27

Chickpea, Tomato, And Roasted Red Pepper Skillet Breakfast

Sporkme

28

Gruyere, Fig Jam And Arugula Breakfast Sandwiches

How Sweet It Is

Bev Cooks

Simply Recipes

31

Bacon, Egg And Toast Cups

Steamy Kitchen

32

Bacon, Egg And Asparagus Breakfast Pizzas

How Sweet It Is

33

Salmon And Bagel Egg Benedict

Foodie Crush

34

Jalapeo Cheddar Biscuits With Salsa, Avocado And Eggs

Annie's Eats

Simply Recipes

36

Roasted Tomato And Zucchini Frittata

Foodie Crush

37

Brussels Sprouts Breakfast Hash

How Sweet It Is

Annie's Eats
Read more: http://www.huffingtonpost.com/2016/01/13/test-egg-freshness_n_8977108.html