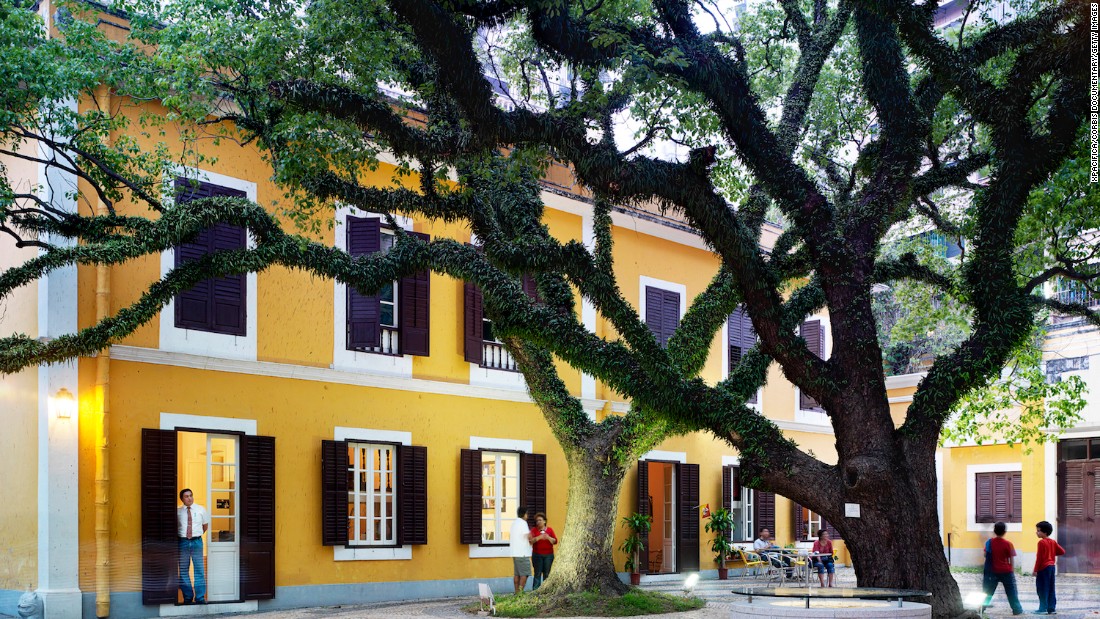 (CNN)I never expected to end up living in Lisbon, on a lovely, sloping block with one of the city's most iconic names: Rua das Janelas Verdes.
The Street of Green Windows.
Wandering the colonial core of Macau, I stumble upon a tiny sign bearing the same name.
Only this "Janelas Verdes" is a dark passageway of less than 50 feet, used mostly for storing bicycles.
Seeking echoes of a five-century cultural imprint, I'm wondering if there's any advantage in knowing what to search for in the place that sparked my interest in the world of the Portuguese.
I certainly don't find it in the obvious places: like the ruins of the Sao Paulo cathedral, the main Senado square, the old battlements and ramparts, now overrun with day trippers, garish displays of paper lanterns and endless rows of pressed pork jerky shops.
And I plan to stay away from the Portuguese restaurants listed in every guide, many with falsely fancy airs to pamper tourists.
Of course, any place that puts out bacalhau, the salted codfish cooked a thousand ways by Portuguese, or spicy chourico sausage, has to at least partially fit the bill.
But many are run by Macanese and feature such multi-national specialties of empire as "African Chicken" or "Minchi" ground beef virtually unknown in Portugal itself.
Livraria Portuguesa
At the far upper end of this unique yet little touristed Calcada de San Lazaro oasis, posters announce art shows and a show of balloon-sculptures festooned to beautiful camphor trees lead me into a gorgeous courtyard.
This the elegantly transformed Santa Casa da Misericrdia, a former charitable home for old women with a 400-year-history, now washed in orange paint set off by a brace of black shutters.
The main attraction here is
Albergue 1601
(
Calada da Igreja de So Lzaro n 8
), a Portuguese hangout of sorts for Macau's few literati, with two floors of stone-and-wood atmosphere as well as assorted grandfather clocks and a menu (as well as wall of wine on display) suggesting it is truer to the form than most.
Never mind that one Portuguese I meet warns me to eat only where they put out cozido a la Portuguesa (hint: look for one or two in Taipa Village), a hearty stew.
Across the way, someone with more than passing knowledge of Portugal has outfitted a luminous matchbox of a store called Mercearia (Calada da Igreja de So Lzaro n 8) whose symbol is the quintessentially Portuguese sardine.
It's stocked with retro soaps in art deco wrappers, wooden mascots of Barcelos roosters and sardines, and the real fishy stuff canned with special care. There's homemade fig jams from the Azores as well.
Caravela
Even though I've already had my fill of caf, I decide to follow the architects' tip to check out Caravela (Shop 7H, G/F, Edf. Kam Loi, R. do Comandante Mata e Oliveira, Avenida de Almeida Ribeiro) — a popular hangout that's Portuguese enough to dare call itself a "pastelaria" (from a country where pastry shops and cafes are one and the same).
It takes asking several rickshaw drivers before I find it down a small alley literally in the shadow of the blazing golden towers of the Wynn, MGM and Lisboa Grande resorts built on the backs of baccarat takings.
With a few outdoor tables under an awning, bare concrete walls inside and a glittery bar outfitted with display case of a typical if minimal selection of Portuguese sweets, like queijadas and the real pasteis de nata — not to be confused with the Brit rip-offs marketed everywhere as "egg tarts") — the Caravela fits exactly my fellow diners' description of "the typical gathering place along some rural highway of everyone in a small Portuguese town."
The people here, too, look like the usual dapper yet unsmiling cast of characters in a place where, as Lilia Silva also said, "everyone knows everyone," nursing with near-sacred devotion their strong coffees — and perhaps their thwarted schemes of wealth in the Orient.
And maybe that's as Portuguese as anything can get.
Read more: http://www.cnn.com/2016/11/29/travel/portugal-in-macau/index.html