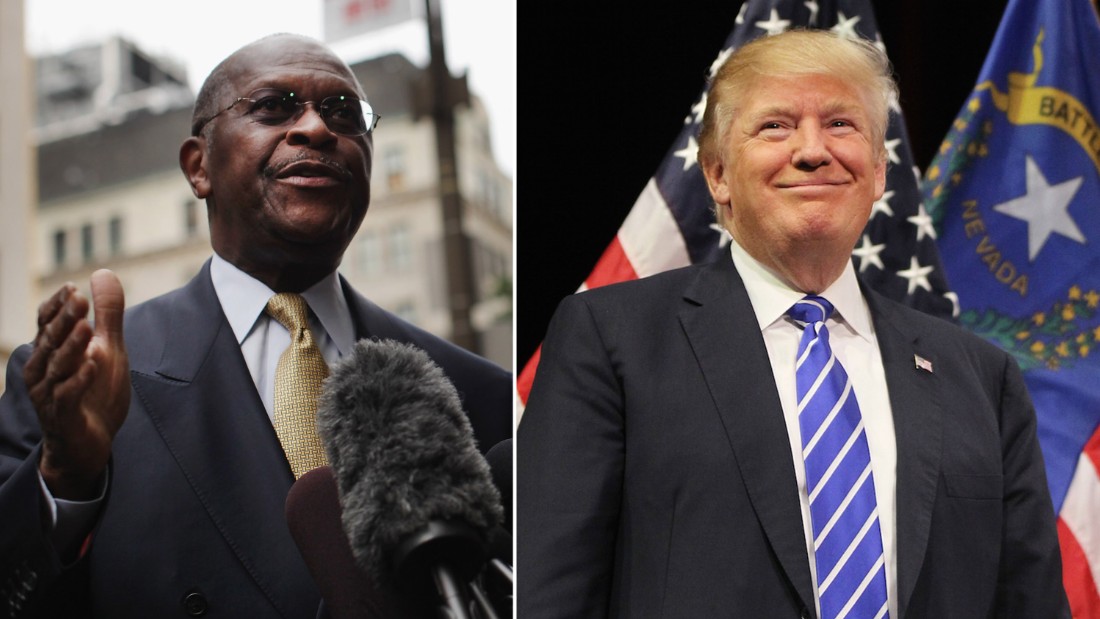 (CNN)Donald Trump has attempted to discredit the women who emerged in recent weeks to make sexual assault allegations against him in part by accusing them of seeking "free fame."
Five years ago, in a move that would foreshadow his current handling of the accusations, Trump publicly defended then-Republican candidate for president Herman Cain, who ultimately was forced to end his campaign amid allegations that he had sexually harassed employees and carried on a 13-year affair. Cain denied the allegations at the time and was never criminally charged.
In a November 2011 interview with Fox News host Greta Van Susteren after the initial accusations against Cain surfaced, Trump said the women, both of whom were still anonymous at the time, were seeking fame.
"They probably do love their names splashed across the front pages. And frankly, that's not a good situation and I don't think it's a fair situation," he said. "And I think Herman should take very, very strong action, even if he has to bring a major lawsuit against the women."
In the same interview, Trump, who has called himself a "victim" in the context of the allegations against him, said that Cain was the target of a "witch hunt."
"I think it's a very ugly witch hunt and I think it's very unfair," Trump said. "You say, 'Oh, hello, darling, how are you?' And you get sued because you've destroyed somebody's life. It's ridiculous. And I think it's very unfair to him. And unless there's something that we're not seeing meaning you, I, and everybody else I think it's a very unfair situation."
About two weeks later, after more accusations surfaced, Trump said in another interview with Van Susteren that the accusations were "unfounded," adding that, "Nobody knows are they true or not true, but they don't have any evidence or any proof."
Cain dropped out of the race on December 3. Though he denied the allegations, he said he was suspending his campaign because of the "continued hurt" they had caused him and his family.
When Trump joined Sean Hannity on the radio two days later, he agreed with the host's comment that the allegations were "mysteriously missing" evidence.
In another interview with Hannity that day, this time on Fox News, Trump said that if John F. Kennedy had been held to the same standard as Cain, he shouldn't have been the president.
"Well, it was a tough thing for him," Trump said of Cain. "I mean, they were coming out of the woodwork. And frankly, you know, I guess based on that John Kennedy should not have been president, right?"
Read more: http://www.cnn.com/2016/10/21/politics/trump-on-herman-cain/index.html