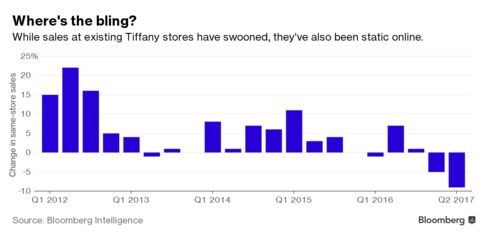 One part wealthy tourists, one part Wall Street grooms-to-be: That simple alchemy has long been Tiffany & Co.s business model, but it hasn't worked that well of late. So Tiffany has turned to the bright, young things.
These days, they eat cronuts, not crullers, and they ogle Snapchat, not store windows. But contemporary Holly Golightlys are out there. Tiffany just hopes they still pine for baubles and bling not just stacking rings from Catbird.
In late July, Tiffany launched a Snapchat filter in concert with a new line of jewelry and a social media campaign tagged #lovenotlike. "We live in a social culture of 'like,' but for Tiffany & Co., 'like' is not enough," Diana Hong, the company's vice president of digital marketing, said at the time.
Instagram: Instagram photo by Tiffany & Co.
The pieces are affordable(ish). Mostly silver and largely diamond-free, they range from $75 to $12,500, though the majority can be had for less than $1,000. They're also a little bit punk, the predominant style being little hearts fashioned as military dog tags.
Thursday morning, Tiffany said it is expanding its offerings under $500 by a double-digit percentage. Its web store now offers easy navigation to pieces under $500 and under $250.
Meanwhile, Tiffany has hired three of fashions It girls to carry the campaign Imaan Hammam, Fernanda Ly, and Pyper America Smith. Here's a Tiffany spot of Smith coming out of a subway station and hopping on a skateboard.
Instagram: Instagram video by Tiffany & Co.
There's no cloying piano music, no genuflecting, no talk of "eternity"none of this schmaltzy stuff. You can almost hear Audrey Hepburn's mousy declaration from the 1961 film: We belong to nobody, and nobody belongs to us.
Investors seem keen on the shift away from romance. Tiffany shares spiked by almost 8 percent Thursday morning on what was, by most accounts, a fairly humdrum earnings report. The company beat analysts' profit estimates, but mostly by keeping costs in check. Revenue fell by 5.9 percent, to $931.6 million, and sales at stores that had been open more than a year swooned by 9 percent.
A strengthening dollar has weighed heavily on the company, but the results were pretty drab even after currency effects were stripped out. Sales of the company's engagement rings were down, and demand was soft for its statement jewelry, namely stone-studded cuff bracelets and bib necklaces that look heavy enough to drown the company's new target demographic.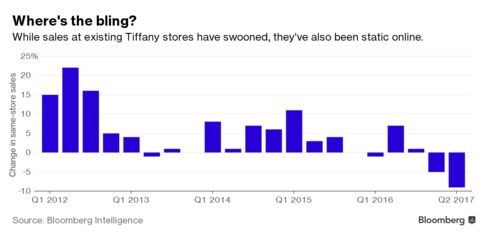 The challenge is that the young's have never been Tiffany's strong suit. Web sales still account for only 6 percent of revenue, a figure that didn't budge in the past year. And while love is timeless, fashion can be fleeting, particularly when it come to young trendsetters. One day they're skateboarding to your store, the next they're running away to Brazil.
Read more: http://www.bloomberg.com/news/articles/2016-08-26/true-love-is-dead-want-a-300-tiffany-dog-tag