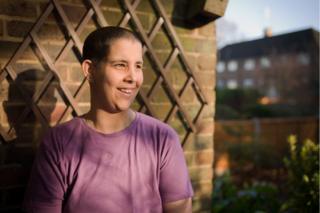 On Christmas Eve last year, Karrie-Ann was told she had breast cancer. Still reeling from the news, a few weeks later she got another big shock – she was three months pregnant.
When doctors told Karrie-Ann Hoppe she was pregnant with her second child, she didn't at first grasp what they meant.
"I was about to be put under a general anaesthetic so they could take two lymph nodes to check for cancer," she says.
"Then the doctors told me my urine test had come back positive. I replied, 'OK, positive for what?' thinking it was another illness. Then they told me I was pregnant."
Breast cancer is rare among women of child-bearing age. In the UK it affects about one in 3,000 pregnant women.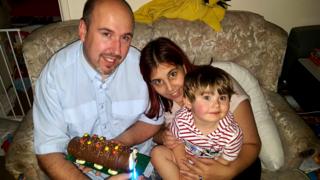 Karrie-Ann, 36, and her husband, Luke, had been trying for another baby after the birth of their eldest son, Wyatt, in 2013. But when she was diagnosed with cancer they put their efforts on hold.
"My breast cancer was hormone-based so I had been advised to not get pregnant but it turned out I already was," Karrie-Ann says.
When the news came through, she had already been prepared for surgery, and was faced immediately with a difficult decision: doctors asked if she wanted to know the risk of the operation causing a miscarriage.
"I said, 'No.' We hadn't known about the baby in the first place and if he didn't survive it would hurt, but it wasn't meant to be."
The two lymph nodes taken from under Karrie-Ann's arm were found to be cancerous.
"Being told it had spread was the worst part of the whole experience," she says.
"Up until then I had been matter-of-fact and dealing with things as they happened. But my step-mum had died from breast cancer after it got into her bones and that was what I was most scared of."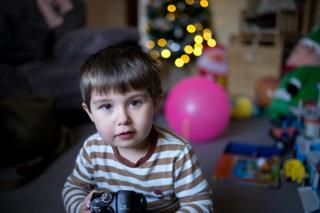 Fortunately, her baby survived the operation and a scan at the start of February revealed she was nearly 12 weeks pregnant.
At this point, though, the couple began to worry whether it might be necessary to have the pregnancy terminated.
"We were surprised and emotional. My husband has four daughters from a previous relationship but we did want another child together," says Karrie-Ann.
"I think if we'd been told we needed a termination we would have accepted it, though, as it was more important I survived for Wyatt."
In fact, termination is rarely recommended to pregnant women who are diagnosed with breast cancer. Most are able to receive treatment while they continue their pregnancies.
"Treatment for pregnant women is pretty similar to treatment for women who aren't pregnant," says Martin Ledwick at Cancer Research UK.
"There may just be a small delay before starting chemotherapy until they have finished their first trimester."
Doctors told Karrie-Ann she would need a mastectomy rather than a lumpectomy. Pregnant women are usually advised to have a whole breast removed because it reduces the need for radiotherapy, which increases the risk of harm to a foetus.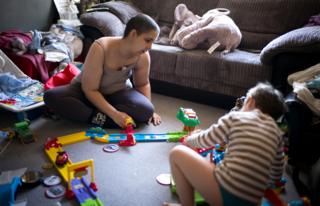 "I said they could just take it," says Karrie-Ann.
"You wouldn't keep a broken car if you couldn't fix it so why keep a broken boob?"
Doctors took Karrie-Ann's left breast and 17 further lymph nodes in February.
"I showed my husband the scar but it took me two weeks before I showed him my whole chest. I thought he might leave me, because I didn't feel a complete woman. But he said he loved me for who I was and not what I was."

Checking your breasts
The best thing women can do is be aware of what their breasts feel like normally.
"If you notice a lump, some change in the skin like thickening, fluid leaking from the nipple or if the nipple seems to have moved, it's sensible to get checked out at the GP," says Martin Ledwick at Cancer Research UK.
"Pregnant women should be aware this is a time when their breasts change anyway, so try not to worry too much."
For more information visit cruk.org

Just one of the lymph nodes was found to be cancerous and nine days later Karrie-Ann was told scans showed she was cancer-free.
"When I got the results I was so relieved and wanted to party," she says.
Karrie-Ann's ordeal wasn't over though as she started a course of chemotherapy in March.
"It caused a burning sensation in my nose, which made me cry. I felt sick and tired the majority of the time, although I didn't know if it was symptoms from the pregnancy or the treatment. Plus I had a toddler to look after as well."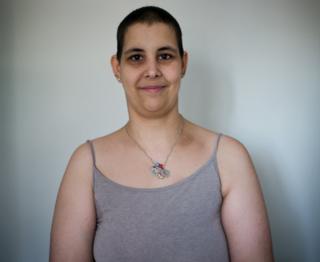 Karrie-Ann's hair fell out as a result of the chemotherapy and her husband bought her a wig, at her request.
"I got my head shaved at the hairdresser and came home wearing the wig. My little boy said, 'Mummy take it off.' I explained that I had no hair underneath and he just came up and gave me the biggest hug.
"After that I decided not to wear a wig or hat. I went out completely bald and if people wanted to query it that was up to them."
To cap it all the family finally got a chance to move to a bigger home.
"We lived in a one-bedroom flat and we were really cramped," Karrie-Ann says.
"I was worried about how we would fit with two children and as I was having chemotherapy I needed respite. Then the council offered us a two-bedroom house in April."
No sooner had they settled in to their bigger home in Crawley than Karrie-Ann became concerned about her baby and had to rush to hospital.
"I rang my mum in a panic and said, 'Kaiden's dead.' We knew we were having a boy at that point and what we wanted to call him. He hadn't moved all night and I'd done everything I was supposed to. I'd lain on my left hand side and poked and prodded but nothing worked.
"We got there and the little blighter started moving, but then I started having contractions."
Karrie-Ann was now 27 weeks pregnant, about 10 weeks short of full term. She was given steroid injections to help the baby's lungs develop but the contractions stopped overnight. Shortly afterwards she stopped having chemotherapy to allow her body to recover in case she went into natural labour.
In the end she had a Caesarean because doctors were concerned Kaiden wasn't growing as well as he should.
"They decided to deliver on 1 July at 33 weeks. We didn't have any of the right nappies or clothes for a preemie baby so it was a rush to get organised," Karrie-Ann says.
"The C-section experience was amazing, I can't fault the NHS staff at East Surrey Hospital at all. I got to choose my own music and walked into theatre with Bat Out of Hell playing, because I'm a big Meat Loaf fan.
"I was awake the whole time and the anaesthetist was telling me what was going on. At one point he showed me some of his wedding photos on his phone."
Kaiden was born weighing 4lb 5oz (2kg), half the weight of some full-term babies. He spent 12 days in hospital being fed through a tube.
"We named him Kaiden because that means little fighter," Karrie-Ann says.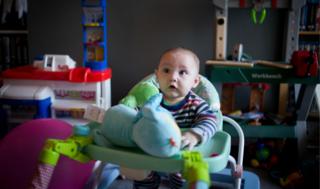 Karrie-Ann resumed chemotherapy in August to give her time to recover from the Caesarean. This time she lost her eyebrows and eyelashes as well as the hair that had re-grown since May. With a new baby to care for, Karrie-Ann needed a lot of support from her family.
"My husband is a bus driver and could only take off certain days. My mum and stepdad and mother-in-law helped look after my eldest, did the shopping and made sure the house was cleaned. I couldn't have coped without them."
Karrie-Ann started a 15-day course of radiotherapy soon after finishing chemotherapy.
"You lie on a slab in the middle of a room on your own with a big machine right above you for 20 minutes at a time.
"After my last treatment I ran out of there jumping for joy. My mum told me I looked different and it was because I didn't have the stress of the treatment any more."
Although Karrie-Ann was offered breast reconstruction she decided against it.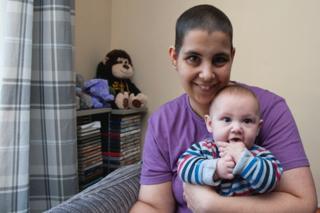 "I didn't want yet another surgery. I'd had enough.
"I decided my scar was my story and proof that I'd survived. My eldest son calls it 'Mummy's smiley face'. I've actually stuck googly eyes on it! I go out quite happily showing I only have one breast and I've even worn a swimsuit.
"My friend Sharon calls me Wonky Donky."
Karrie-Ann will now take Tamoxifen for the next 10 years. It is a type of hormone therapy that reduces the risk of the cancer returning, though there are some unpleasant side-effects.
"The hot flushes are a nightmare especially when I'm trying to sleep. I get tired quite easily but apart from that things are looking up. I'm on maternity leave from my job at Sainsbury's and my baby son and I are having a competition to see who can grow their hair quicker!"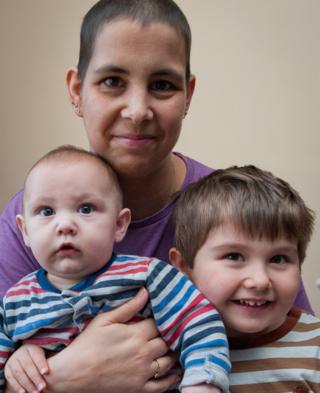 Karrie-Ann is keen that more is done to encourage young women to check their breasts. She only thought to check her own after a friend was diagnosed with the disease. What she noticed was a large dent in her left breast, visible particularly when she raised her arm.
"It turns out I must have had the tumour for a year before they found it."
She decided to join Cancer Research UK's Right Now campaign, which shows the day-to-day reality of having cancer.
"I wanted to share my story to let women know you can be pregnant and have breast cancer but you and your baby can be fine.
"It's funny, up until I had my mastectomy I never felt comfortable in myself. But now when my husband tells me I'm beautiful I believe him. I feel better in my body after having had cancer."

Join the conversation – find us on Facebook, Instagram, Snapchat and Twitter.
Read more: http://www.bbc.co.uk/news/magazine-38343494