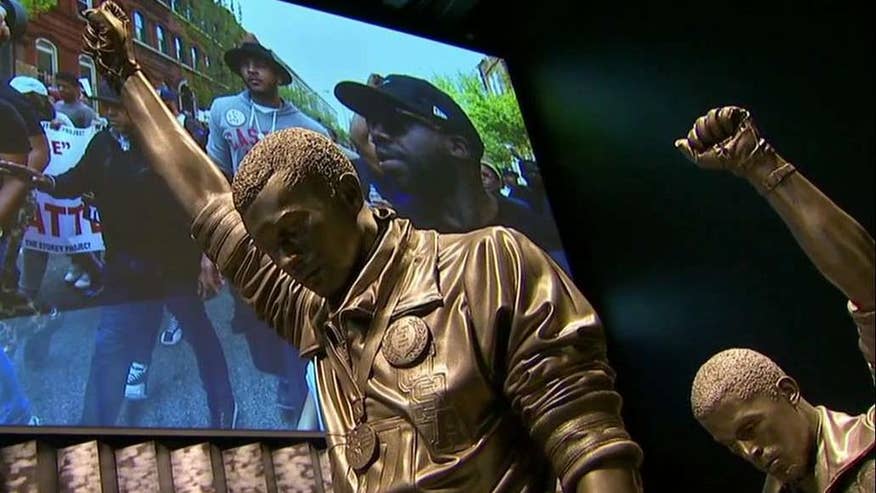 The National Museum of African American History and Culture opens in Washington this weekend on the National Mall.
President Barack Obama, Michelle Obama, President George W. Bush and Laura Bush are all expected to make statements at the opening ceremony Saturday morning. Museum officials expect about 20,000 visitors for the opening weekend events and millions more an virtually experience the milestone via social media.
The building's outward design known as the Corona features walls reaching skyward, which the architects say evokes the resiliency, faith and hope that has sustained black Americans since they were brought to the country in bondage. Its three-tiered shape is inspired by a symbol from the Yoruba people of West Africa featuring a crown. The 3,600 bronze-colored panels surrounding the building are a tribute to the 19th-century ironwork created by slaves in New Orleans. The museum cost $540 million.
"The structure itself is imbued with meaning," said Phil Freelon, the lead architect for the museum. "All these things are subtle. That's intentional. It has a certain sense to it that is African-American, in the way that our culture is expressive in other areas. We believe architecture can evoke those sorts of emotions."
The museum takes visitors through the complex history of black people in the U.S. with artifacts and exhibitions that cover centuries of oppression, triumphs and modern discussions on race.
Fifty years after the end of the Civil War, black citizens in Washington, D.C., formed the National Memorial Association with the purpose of "erecting a beautiful building suitable to depict the Negro's contribution to America." It would be, they said, "a shrine for posterity."
It has taken a century for their dream to be realized in Washington, a place visited by more than 20 million people from around the world who want to learn about the United States. During that time, other monuments and museums celebrating the stories of other Americans were proposed and built in the nation's capital.
The museum includes 12 inaugural exhibitions and close to 37,000 artifacts, but only 3,000 will be on display this weekend.
Must-see pieces of memorabilia include the dress Rosa Parks, who was a seamstress, was sewing before she was arrested for not giving up her seat on a segregated bus on Dec. 1, 1955, Nat Turners bible, and Muhammed Alis headgear.
There are also the ankle shackles that would have been used to restrain people who became slaves after crossing the Atlantic Ocean from the African continent to the Americas. A bill of sale for an enslaved 16-year-old girl named Polly, who was sold for $600 in Arkansas in 1835. A segregated Southern Railway passenger car that would have passed through Kentucky, Tennessee, Georgia and Florida.
Visitors can also see a biplane used at Alabama's Tuskegee Institute to train black pilots for Army Air Corps service during World War II. A vintage red Cadillac from rock-and-roll legend Chuck Berry's personal collection. Jackie Robinson's jersey and baseball bat. Harriet Tubman's hymn book, circa 1876. Michael Jackson's fedora.
Tickets to the museum are free, but visitors must make reservations for timed tours. Weekends already are booked through early December, and the museum has extended its hours to accommodate the increased demand.
The Associated Press contributed to this report.
Read more: http://www.foxnews.com/travel/2016/09/23/national-museum-african-american-history-and-culture-opens-this-weekend.html