AMATRICE, Italy A garage has been turned into a morgue. Outside the entrance to this underground space, a line of people has formed. Many of them are wrapped in quilts, calmly awaiting painful answers regarding their missing loved ones. "I'm looking for my brother. I don't know if they've brought him here, or if maybe he's still alive, though who knows where he is," says Claudia. The 44 year-old escaped the quake unharmed but is still dirtied with rubble and dust. Another person speaks up: "I want to talk to the police. Where are the other dead bodies? I'm looking for my father."
People here are facing an enormous sense of desperation after a 6.2 magnitude earthquake struck early Wednesday, causing untold damage. It's a swarm of ceaseless unhappiness. The tremors continue throughout the night, one rumble after the next. Inside the garage-turned-morgue, the smell has grown overpowering, and at 2 a.m. the decision is made to evacuate the premises. One by one the coffins are loaded into ambulances and taken to another collection center. Only then does a lone man decide to leave the pallet where he's curled up and taken refuge to cry alone. "They just took my wife away," he laments.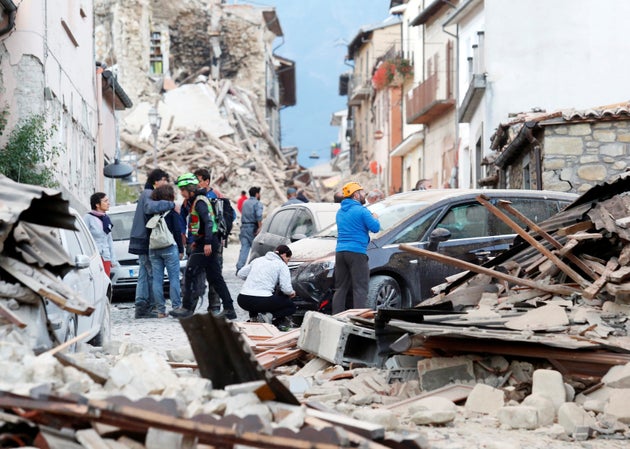 The bodies that are carried out of the garage cross paths with other bodies that have just been pulled from the rubble of a three-story building by firefighters. "There are seven more here," shouts a young man with the Red Cross. The mountain of rubble, where more than 30 men are searching tirelessly, is lit with powerful spotlights. Someone signals for the group's attention. Others bring a stretcher and white bags. This is the very moment a body is pulled from the bricks: "It's a boy," says Luca, a volunteer who is probably the same age as the victim. The parents stand nearby in tears, heartbroken but composed, then line up behind the stretcher.
This same scene is repeated over and over again, including outside Hotel Roma. Once world-famous for its spaghetti all'amatriciana, the hotel has turned into a cemetery for an unknown number of dead, buried in rubble in the heart of the "red zone," the most dangerous and hardest-hit section of this town in central Italy's Rieti province.
Im a teacher with no school left. Maria Teresa
Some sleep in cars parked along country roads, far from any buildings. One woman can't sleep, and at half past three in the morning the same time the first major quake hit she can be seen wandering around, murmuring to herself: "The children… the children… I can't think about it." Italian Civil Protection agency vehicles are busy bringing what seems like an entire town's population into a tent city erected to protect the newly homeless from their first cold night outside, marking the beginning of a prolonged ordeal for many of the town's citizens.
In the neighboring town of Accumoli, psychologists are getting to know children still in shock. There are diapers for the youngest ones, and milk for breakfast. But nobody can get any sleep. Some call out for the parish priest. Others insist that they want to go home. But there are few homes left to return to. There are hordes of firefighters, military personnel, police officers, volunteers and dogs; they are all searching for missing people amid the rubble and clouds of dust.
A teacher sits nearby, struggling with hiccups, as the ambulance sirens move away and go silent. The emergency vehicle is driving over to the small sports arena in Amatrice, where many of the town's residents have gone to catch some sleep.
"I'm a teacher with no school left," says Maria Teresa, a teacher in the local school, which was rebuilt in 2012 and has now been razed to the ground by the quake. She begins to cry. "This is the end of our wonderful town. There's nothing left now. You can see nothing but tears. What if the children had been in school?"
In Amatrice, many people have already been evacuated. They've left to seek refuge with relatives in Rome and cities nearby. Others are spending their first night in the sports arena, almost directly in front of the makeshift morgue. Besides housing people, the arena has become a warehouse for food and supplies of all kinds. They're piled in a mountainous heap, a sign of great solidarity from other Italian cities and regions: a ton of coffee from Bologna, durum wheat pasta from Campania, medicine from the south. "There's been a lot of help, stuff pouring in from all over Italy," says a woman named Franca, staring out at nothing. Later she adds, "We'll bury our dead… but then what?"
For now, no one in Amatrice or in the surrounding ghost towns is able to fathom the future. They just keep digging.
"Silence, silence!" a firefighter calls to the many journalists from all over the world who have made their way to this small town. It's pitch dark, but they're still searching for bodies, and right now they need quiet in the hope that they'll manage to hear some small cry coming from under all that rubble. "Can you hear me?" he shouts. "If you can hear me, say something. Talk. Say something!"
The man is exasperated, as are the other firefighters. There are a few moments of silence, but no sound can be heard from the rubble. People work throughout the night, wanting to believe they can still pull someone from the rubble alive, but by dawn, even these faint glimmers of hope have disappeared. The count has risen dramatically: more than 250 people dead in all the areas struck by the quake, with 200 in Amatrice alone. Many more are still missing. The growing death toll has outraged Italians, and called into question the country's infrastructural preparedness in the face of seismic events.
Nobody is getting any sleep in the tent city and rescue centers. The elderly sit, talking among themselves. An old lady pantomimes the shaking of the earthquake; she just felt another tremor. Outside, the searching continues.
Many of those who spoke to HuffPost Italy asked that their last names not be used. This report first appeared on HuffPost Italy on Aug. 25. It has been translated into English and edited for clarity.
Read more: http://www.huffingtonpost.com/entry/italy-earthquake-first-night_us_57befd60e4b04193420dba68?section=&