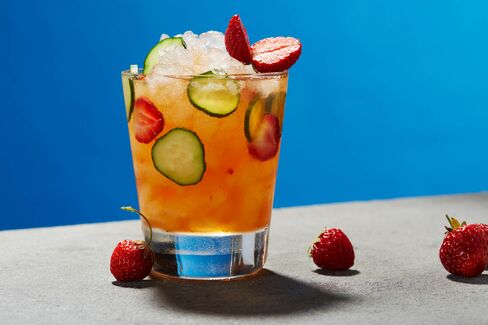 No doubt about it: Pimms Cup is one of Englands greatest contributions to the bartenders canon, a summer cocktail for the ages. The recipe dates back to the 19th-century London oyster house proprietor who created Pimms No. 1 liqueur, which he made from a secret recipe of gin, citrus, and spices. The drink, served in a tall glass with cucumber, lemon, ice, and carbonated soda, has gone on to become the official beverage of posh sporting events such as Wimbledon and the Henley Royal Regatta and is a staple of cricket matches all over of the world.
The one thing its missing, though, is any real authoritative agreement about what precisely goes into the drink. In the U.S., the most common version uses Pimms No. 1, cucumber, lemon, and ginger ale; but recipes have used everything from Cointreau to 7 Up, while the more extravagant versions can include orange, blueberries, mint, and apple. And all too often, the drink ends up tasting like a soupy fruit salad.
Enter the Sim Cup, a leaner, punchier take on the drink. Created by Joaqun Sim, co-founding partner of New Yorks Pouring Ribbons, this version marries the tart sweetness of fresh strawberries and the vegetal coolness of sliced cucumber, both of which are intensely aromatic. Summertime drinking is defined by highly quaffable long drinks that take full advantage of the seasons bounty, says Sim.
To give it a boozier backbone and a richer botanical profile, he also adds a full ounce of Plymouth gin on top of the Pimms. Simple syrup lends a richness (especially helpful to offset the quick-melting crushed ice), and the lemon juice gives a bright pop of acidity. All together, it adds up to what Sim calls a quintessential patio drink guaranteed to elicit secondand possibly third and fourthtrips back to your bar.
Ingredients:
1 oz Pimms No. 1
1 oz Plymouth Gin
0.75 oz fresh lemon juice
0.75 oz simple syrup
1 strawberry (leaves removed)
1 cucumber wheel
Muddle cucumber and strawberry in bottom of shaker. Add all ingredients and shake with 3-4 cubes of ice. Strain into Collins glass over crushed ice. Garnish with additional cucumber and strawberry on the rim.
Read more: http://www.bloomberg.com/news/articles/2016-06-17/pimms-cup-recipe