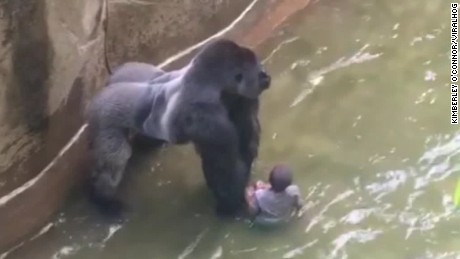 (CNN)The tragic death over the weekend of Harambe, the endangered lowland mountain gorilla shot dead at the Cincinnati Zoo & Botanical Garden after a 3-year-old boy fell into his enclosure, has touched off a roaring debate:
Is
the zoo to blame
for creating an inadequate enclosure, and then for needlessly killing Harambe when a tranquilizer might have been sufficient? Or is it the
child's parents
' fault for letting the boy out of their sight long enough to have made his way in?
A
change.org petition
calls for the Cincinnati Zoo, Ohio's Hamilton County Child Protection Services and the Cincinnati Police Department to hold the parents responsible. Meanwhile, his mother defended herself in a Facebook post (since deleted) saying, basically, "accidents happen."
The truth is that responsibility lies with a number of people. But the better question the incident raises may instead be: How can we prevent a similar tragedy from happening?
Leashing our responsibilities would simply give us even more freedom to be less present. Wrap a leash around your wrist, and guess what: You've still got two thumbs to text.
By all accounts, the Cincinnati Zoo enclosure was not unsafe. The 3-year-old who entered Harambe's enclosure did not do so accidentally. Some onlookers
reported hearing him tell his mother
that he was going to go into the water.
Accessing the enclosure, meanwhile, required the child crawl through a series of barriers, through wires, and then across a moat. He was determined, and without adequate supervision by his parents or any number of the adults in the area he achieved his goal.
To the question of how can parents keep better track of their kids in these kinds of potentially dangerous places? The answer is, simply, parent. Do your job.
Read more: http://www.cnn.com/2016/05/31/opinions/gorilla-shooting-should-you-leash-your-child-drexler/index.html