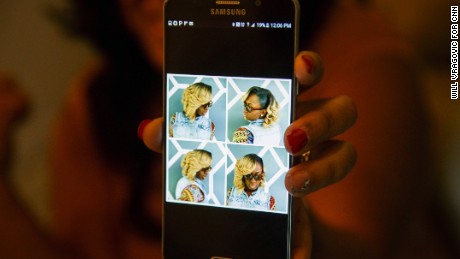 Tampa, Florida (CNN)India Clarke was a teenager when she got the tattoo near the corner of her eye. The image was so faint, blue ink on black skin, that her family barely could make it out at first. It was a symbol of metamorphosis. "She said butterflies are always flying away, always free," a friend of hers told me. And this butterfly hinted at life beyond her body.
Back then, India was a recent high school graduate from Tampa, Florida. She wore a black tux and shiny green vest to prom. She played high school football, posing for a team photo wearing twisty braids and a goofy smile. Only later would she tell her father she played the sport simply to try to impress him — that all she really wanted was to be a cheerleader.
This was 2008 or so, a time when everyone called India Clarke by the name her mother, Thelma Clarke, had given the child at birth: Samuel Elijah Clarke, or Sammy.
It was her father's name — given to a "miracle baby." Thelma Clarke told me she'd had her tubes tied before becoming pregnant with India. Yet somehow her daughter struggled into the womb and lived. It was like she "was supposed to be here," Thelma Clarke said.
From that beginning, it was a life that never would be easy.
After getting a knock on the door from a law enforcement officer on the morning of July 21, Samuel Clarke found his wife at work to deliver the news.
She ran out of the building, hysterical and in tears.
"It felt like my heart was so heavy, like someone laid a big brick just right on top," she said. "And now all I can do is just look at his pictures and think about him — our good times."
How India Clarke is remembered is important to her friends, and to me.
Friends and transgender advocates took deep offense, saying the misgendering of India revictimized her. She'd lost her life for being who she was. And then that identity was stolen.
You get a sense of how India's parents remember her by standing in their living room.
The couple has a large image of their fallen child above the TV.
It features two India Clarke selfies, side by side.
In both, she's dressed as herself, long lashes and lip gloss.
On the left, a toothy smile.
At right, closed lips.
Underneath the image are these words: "#SayHerName."
Read more: http://www.cnn.com/2016/07/07/opinions/sutter-india-clarke-transgender-murder/index.html