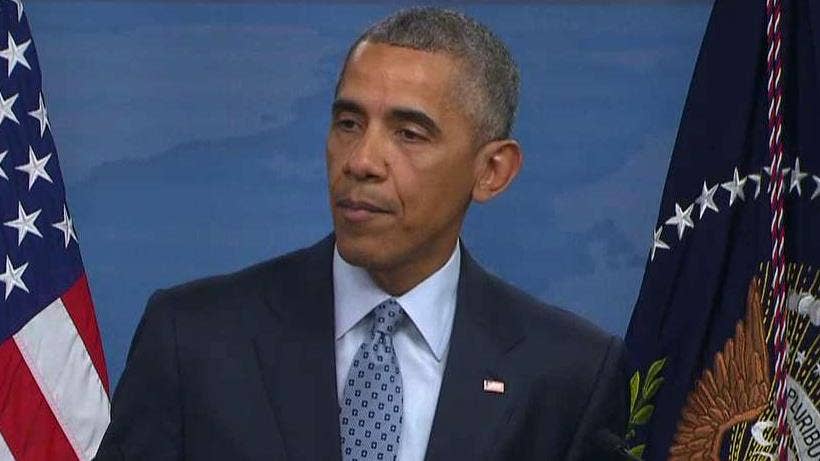 President Obama on Thursday pushed back on claims that the United States paid $400 million for the release of four American hostages in Iran defending the transaction as evidence that the controversial nuclear deal with Tehran acted as a catalyst for progress in other areas.
"This wasnt some nefarious deal," he said during a press conference at the Pentagon. "We do not pay ransom for hostages."
Reports have surfaced in recent days that a $400 million pallet of cash was airlifted by the Obama administration to the Iranian government at the same time four Americans hostages were released.
Obama said the money sent to Iran wasnt a secret and suggested the news had been recycled to drum up drama.
Earlier Thursday, Secretary of State John Kerry flatly denied any connection between the cash and an additional $1.3 billion interest payment and the prisoner swap, which occurred in rapid succession.
The payment was part of a decades-old dispute over a failed military equipment deal dating to the 1970s, before the Islamic revolution in 1979, the Obama administration has said.
"The United States does not pay ransom and does not negotiate ransoms," Kerry told reporters during a press conference in Buenos Aires. "It is not our policy. This story is not a new story. This was announced by the president of the United States himself at the same time."
The Obama administration has said the payment was part of a deal under the then-U.S.-backed shah to buy $400 million worth of military equipment in 1970s. The equipment was never delivered because in 1979, the government was overthrown and revolutionaries took Americans hostages at the U.S. embassy in Tehran.
The U.S. and Iran have been negotiating the Iranian claim to the money since 1981.
Some Republicans have slammed the payment as ransom and says it puts more Americans at risk of being taken hostage.
"The Obama Administrations airlift of $400 million in cash to Iran is disturbing, but hardly surprising given its long record of concessions to Americas adversaries," Sen. John McCain, R-Ariz., said in a written statement. "Whatever the Administration may claim, it is clear that this payment was a ransom for Americas held hostage in Iran."
House Speaker Paul Ryan, R-Wis., said the cash payment marked "another chapter" in the Obama administrations "ongoing saga of misleading the American people to sell this dangerous nuclear deal."
During the press conference, Obama also gave an update on the Islamic State terror group, saying it continues to pose a serious threat to Americans.
Despite the warning, he vowed to take them down and said the group will "inevitably be defeated."
"None of the (ISIS) leaders are safe, and were going to keep going after them," Obama said.
"We will expose them for what they are murderers," he added.
The president also questioned Russias involvement in Syria, saying the relationship raises "very serious questions."
On the domestic front, Obama called Republican presidential nominee Donald Trumps claims that the U.S. election will be rigged "ridiculous."
"Of course the election is not rigged what does that even mean?" he said in response to a reporters question.
"This will be an election unlike any other election," he added. "I think all of us at some point in our lives played sports or in a schoolyard some folks, if they lose, they say they got cheated but Ive never heard of someone that hasnt lost yet saying they got cheated."
His advice for Trump?
"My suggestion would be to go out and try to win the election."
Both Trump and Democratic nominee Hillary Clinton will soon receive classified briefings, giving them access to sensitive information about national security threats and the U.S. military posture. Asked whether he was worried about Trump having access to such material, Obama said simply that those who want to be president need to start acting like it.
"That means being able to receive these briefings and not spread them around," he said.
The Associated Press contributed to this report.
Read more: http://www.foxnews.com/politics/2016/08/04/obama-denies-us-paid-iran-to-release-hostages-says-isis-still-threat.html