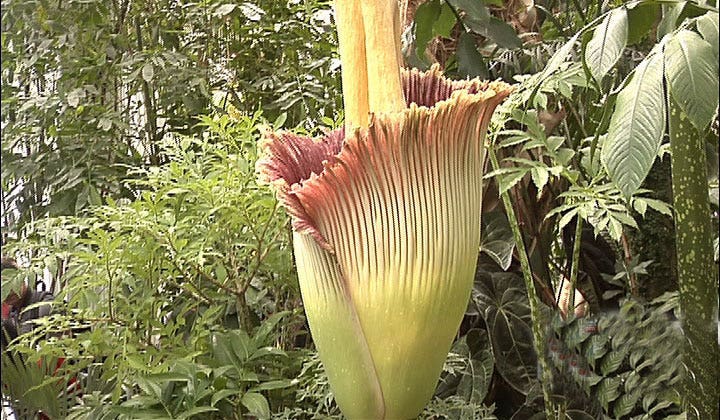 Plant lovers in New York are enjoying a smelly treat with the rare bloom of a corpse flower at the New York Botanical Garden.
The botanical phenomenon, which typically lasts 24 to 36 hours, began on Thursday afternoon. It will likely be several more years before the flower blooms again, according to the Botanical Garden.
Bloom cycle is expected to last 2436 hours, so tomorrow (Friday, July 29) should also be a great time to see it! pic.twitter.com/tmXEOs7aXc

— NY Botanical Garden (@NYBG) July 28, 2016
Famous for its highly pungent odor, which has been compared to the smell of rotting meat, the Amorphopallus Titanum, or corpse flower, has a highly unpredictable bloom cycle. Native to Sumatra in Indonesia, a specimen of the flower first bloomed in the Western Hemisphere at the New York Botanical Garden in 1937. A second specimen bloomed at the site in 1939.
The flower, which uses its stench to attract pollinators that feed on dead animals, has been carefully nurtured by Botanical Garden staff for almost a decade.
Read more: http://www.foxnews.com/science/2016/07/29/new-york-enjoys-rare-phenomenon-corpse-flower-in-bloom.html