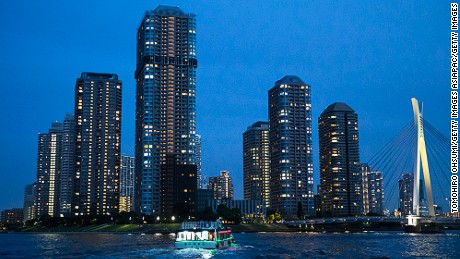 (CNN)In a new series called #MyTokyo, airing later this month on CNN International, four well-known Tokyo-based Instagrammers introduce their city to the world.
From food to architecture, scenery to special landmarks, their unique perspectives bring Tokyo's landmarks and popular districts to life in a whole new way.
But we didn't stop there.
We recently asked our social media followers to share their own photos and insights on Japan's capital.
That beautifully awkward in-between moments. #Japan #Tokyo #TokyoTower #Roppongi # # #
Tokyo Night Skyline from Roponggi. #CNNMyTokyo #Roppongi #Japan #Tokyo #Skyline #aerial #night #sunset #landscape #panorama #nature #cityscape #urban #Pentax #cnnireport #bbctravel #natgeo #lonelyplanet #Travel #potd #SuwandiCPhoto #SuwandiChandra #architecture #building #vsco #vscocam
Sitting atop Tokyo's Asahi Beer building is the famous "kin no unchi" — Japanese for "Golden Turd."
The 300-ton stainless steel sculpture designed by French architect Philippe Stark was meant to look like foam rising from a beer mug.
Good evening from #Tokyo #CNNmyTokyo
He too singled out Minato for its awesome views, adding that it's an ideal place for a romantic date.
Perhaps Tokyo's most famous unintentional tourist hotspot, the Shibuya scramble crossing is located in front of Shibuya station, a major shopping and nightlife district.
The suspension bridge has become an incredibly popular spot for photographers looking for wide views of the Tokyo skyline.
It's 798-meters long and stretches from Shibaura Pier to the Odaiba waterfront development in Minato.
The bridge's walkway, which is 1.7 kilometers long, is open from 9 a.m to 9 p.m. in April to October, from 10 a.m. in the winter months.
Of course Tokyo isn't just skyscrapers and lights.
The city's shrines, temples and parks are excellent photography subjects too.
Sake wine offering #CNNMyTokyo
Cherry blossom season #Tokyo #shinjukugyoen #wanderlust #bucketlist
The small community space is made up of renovated houses built in the 1930s.
There's a beer hall, bakery and several small shops.
In 2014, the station celebrated its 100th birthday.
The inside is just as marvelous as the out.
A cake, this is not. Beauuuutiful ceiling of Tokyo (train) station. I can stay there all day and just people watch or marvel at the architectural design and its interiors. 11.13.15 #iphonephoto #iphoneography #mobilephotography #iphone6 #TokyoStation #Tokyo #Japan #travel #travelgram #SoloinTokyo #FunTokyo #nofilter #exploreJapan #CNNMyTokyo
Naturally, our social followers offered plenty of tributes to Tokyo's incredible food scene.
No surprise there though, given last year it became the world's first Michelin starred ramen shop.
Want to give it a taste?
#tb to the place that serves arguably the best ramen in Japan and certainly the BEST I've ever had – Tsuta! Anticipating a long line, my friend and I headed out early, but to our surprise we arrived an hour before they opened with no one on line. A guy setting up inside saw us lingering and he came out to hand us a number. I don't know if it was the rain, but we waited on line for like 15-20 minutes tops before we got a seat. At about 1200 (~$12 USD) it was worth every yen!! #cnnmytokyo
Salmon bowl @ 5 AM. #Tokyo #tsukijifishmarket #KatAshtropheinJapan #CNNMyTokyo
Whoever thought a slab of octopus could look so beautiful?
A foodie, that's who.
Most of us have been inside or at least seen photos of Tsukiji.
#fish #lover #market #tokyo #CNNMyTokyo
First, diners order their dishes on a tablet.
It then comes rushing to the table on a track, sitting atop a little car shaped like a Shinkansen bullet train.
It's a sci-fi cabaret club where big robots meet ninjas meet dancers in sparkly bikinis.
Flooded with neon lights, mirrors and golden seashell-shaped armchairs, the restaurant in the Kabukicho area of Shinjuku cost JPY10 billion (or $10 million) to construct.
Meanwhile, one Twitter user had this to offer about the crazy Robot Restaurant:
Duly noted, sir.
Doesn't get more literal than this. Shibuya's Nonbei Yokocho — a.k.a. Drunkard's Alley — is filled with bars and restaurants.
Yokocho . . . . #japan #sunday #springtime #springbreak #food #foodhall #yokocho #foodie #drinks #drinking #eating #yummy #travel #explore #tokyo #izakaya #alley #cnnmytokyo
There's a reason countless artists and fashion designers cite Tokyo as a constant source of inspiration for their designs.
It's arguably the world leader when it comes to street style — thus a street photographer's dream destination, too.
And last but certainly not least, we bring you the people watching capital of the world — Harajuku.
It's where Japan's youth subcultures gather on Sundays to see and be seen.
In addition to boutique cafes and shops aside, Harajuku is also home to Laforet fashion mall: a mecca for Gothic Lolitas and Gyaruo boys as well as other avant garde fashionistas.
The colorful world of Harajuku. (11.12.2015) #iphonephoto #iphoneography #iphone6 #mobilephotography #Harajuku #Tokyo #Japan #SoloinTokyo #FunTokyo #travel #travelgram #instatravel #street #galanimarlet #CNNMyTokyo
Got your own Tokyo photos to share? Tag 'em with #CNNMYTokyo.
Read more: http://www.cnn.com/2016/08/21/travel/mytokyo-tips-images/index.html