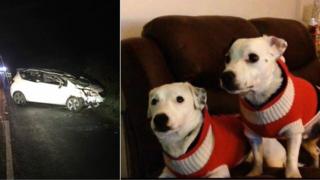 One of two dogs which went missing from a crashed car has been found.
Linda Camborne-Paynter's two terriers escaped from her car after the crash at about 18:00 GMT on Thursday outside Sweetshouse near Lostwithiel, Cornwall.
Her niece Tiena Shiraishi confirmed that Jack Russell Dexter has been found at nearby Polscoe near the site.
On a mission to find them, her son Bret said: "I went around every single lane in the area with a squeaky toy in the fog and the cold."
Read more on dog search and other Cornwall and Devon stories
He said he searched until 04:00 to try and find them.
Mrs Camborne-Paynter, 65, who broke both of her arms in the crash, has had Dexter and Snowy for two years.
"Mum was on morphine last night because she'd broken both arms, she had both wedding rings cut off, but she was broken and crying because she thinks she might have hurt the dogs and she's worried she won't see them again".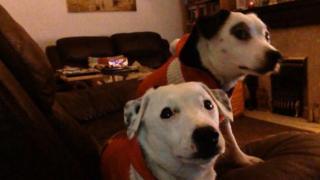 Her daughter Suzanne Smith said the car flipped after hitting a bollard and a large decorative rock.
She said: "The driver of the car behind stopped and opened the door to check on mum and this is when the dogs got out".
Fire crews from Lostwithiel and Bodmin cut the roof off the car to get Mrs Camborne-Paynter out before she was taken to hospital in Truro.
Read more: http://www.bbc.co.uk/news/uk-england-cornwall-38413996