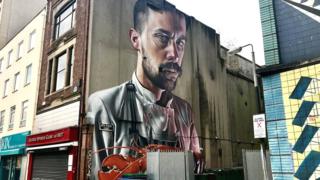 Belfast is a city better known for its history than its artwork, but a new generation of artists are claiming its public spaces as their own.
For decades the streets of Northern Ireland have been peppered with political murals depicting the region's religious divisions.
But a new wave of contemporary mainstream art is emerging in some of Belfast's neglected and more up-and-coming areas.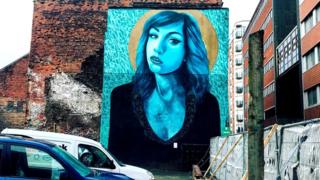 The art in the city's Cathedral Quarter has become so popular local art curator Adam Turkington now runs a tour around the area.
"There's over 100 pieces of street art within a very short walking distance," he said.
"I grew up in the Troubles. If you have environments where walls are political then public art becomes accentuated and more important.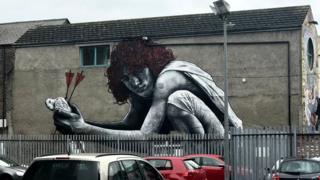 "If you go to Berlin or Bethlehem, there is a real tradition of street art as an active protest against the political position of walls within communities.
"We already had a tradition of murals and writing on walls here, which is more often than not associated with division. So to create a body of work that is a counter narrative to that is really powerful.
"So much of the path to creating a shared cultural identity is creating visuals and architecture that everybody can take ownership of."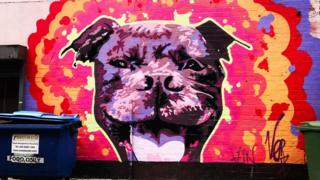 Many of the local artists who started as amateurs have now gained commercial contracts as Belfast's businesses aim to decorate their premises with their own commissioned stylised graffiti.
Here are profiles of some of the faces behind some of the city's most striking artwork.
---
Dean Kane (aka Visual Waste)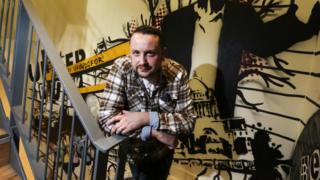 Dean Kane (under his alias Visual Waste) specialises in pop culture designs, painting portraits of celebrities that have fast became local tourist attractions.
He said:"I had a corporate job with a great salary but it bored me and I wasn't passionate about it.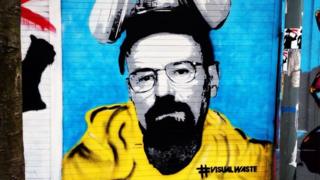 "After I had my first kid I was going to go back to it, but I ended up walking in, writing my resignation on a napkin and heading straight to the job centre to register myself as self-employed.
"I started putting my work on social media and soon I was getting lots of commercial work. I started a website and then a video blog and it really raised my profile.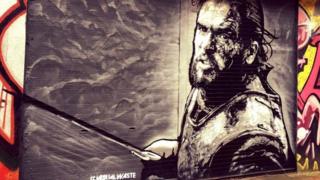 "Belfast is evolving, millennials aren't interested in all the political murals, they want something that means something to them.
'Street art actually communicates something'
"Street art communicates to a much broader age and social media allows its profile to be elevated to a whole new level where everyone has access to seeing it.
"Vandalism is when somebody just sticks their name on a wall but doesn't have any intention of actually saying something with any real meaning."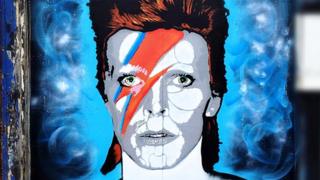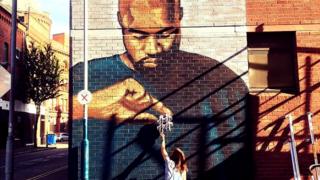 ---
Eoin McGinn (aka Emic)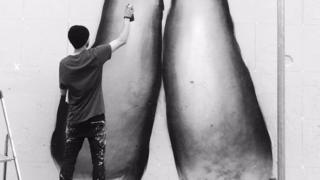 Eoin McGinn from County Tyrone, is a street artist who decided that he had enough of 'normal' jobs after losing two in a month.
He said: "I come from a rural upbringing, but I moved to Manchester and then Belfast to study art.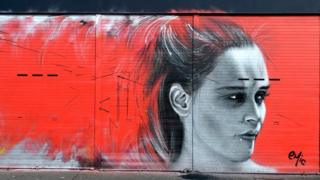 "I loved all the art that comes with living in the city and it really inspired me to start it myself.
'I always thought that art looked better on walls than in galleries'
"Eventually a local newspaper did a feature on one of my pieces and it kind of just built from there.
"The political murals still have a place in Belfast because of its history, but my work is nothing like that, what I do is a blend of photo realism and abstraction."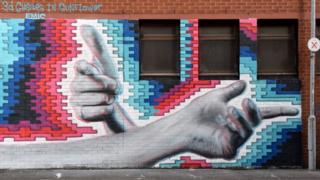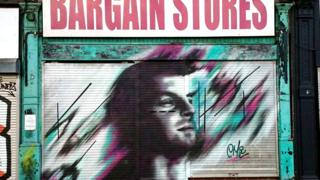 ---
Marian Noone (aka Friz)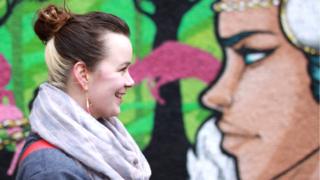 Marian Noone is originally from County Sligo, Ireland. "I studied animation originally but never went into the industry," she said.
She moved to Belfast 11 years ago, where she found and fell in love with spray painting: "I paint, maybe subconsciously, powerful strong looking women."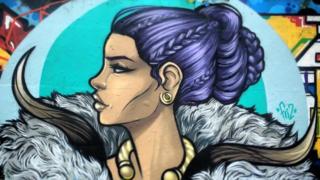 "I'm really inspired by nature and by Celtic mythology. It may not be totally accurate, but there's that kind of fantasy element where I take liberties.
'No other city'
"If I had been in any other city it wouldn't have happened as organically as it did in Belfast."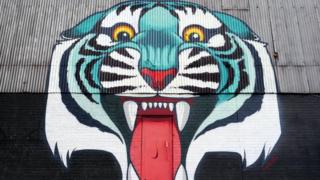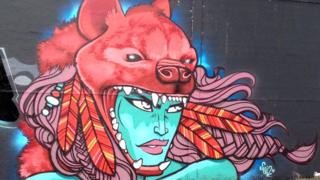 ---
Glen Molloy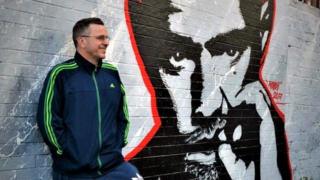 Throughout 2016 mysterious paintings of celebrities began appearing in the docks area of the city.
Glen Molloy was eventually revealed as the anonymous man behind the portraits.
'Belfast's Banksy'
"I want to do this every spare minute I get. I want people to see positive images of people they love or respect," he said.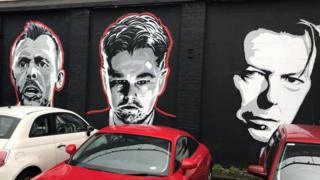 "Right now I'm just doing it because I am passionate and I want to brighten up the city.
"Personally I am on benefits, so I want to get to a point where I can do this as a living.
"I could be sitting with 15 and I know I should go and spend it on electricity, but I end up spending it on spray cans because I just want to keep doing this."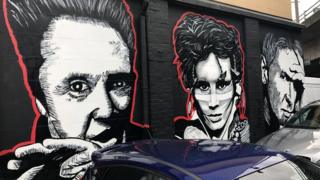 Read more: http://www.bbc.co.uk/news/uk-northern-ireland-38981632