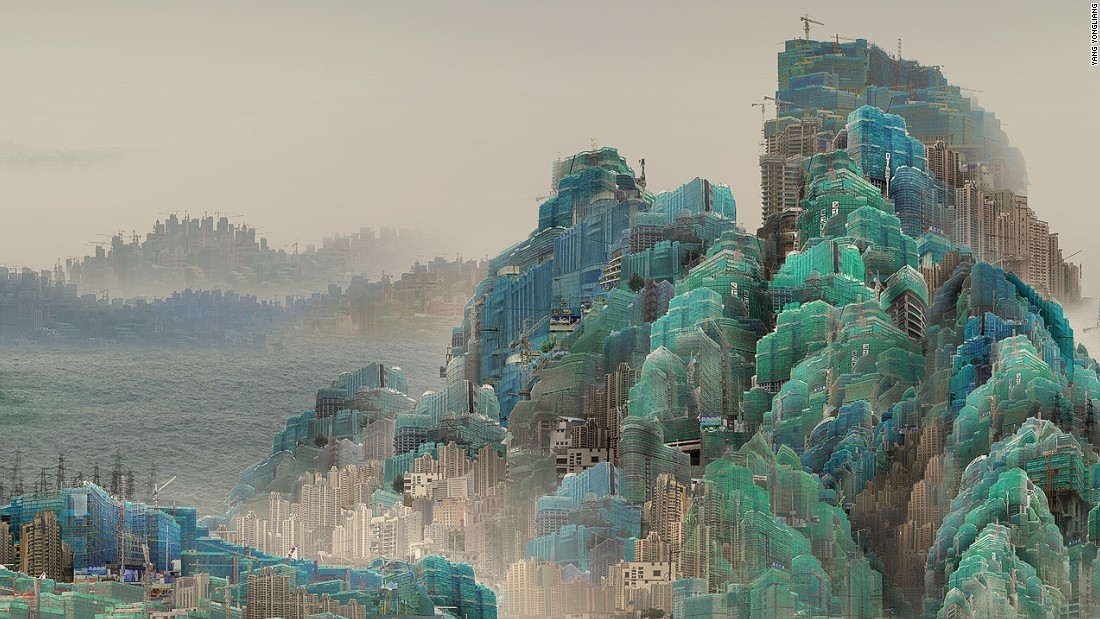 (CNN)Yang Yongliang's dreamy works have the familiarity of traditional Chinese paintings, but on closer inspection, his take on the country's rapid urbanization is soon revealed, in what he describes as 'digital landscapes.'
Armed with an extensive database of city photos he's taken himself, the Shanghai-based artist layers these images and creates new worlds. With the exception of some pencil sketches, the process is completely digital and relies on Photoshop and After Effects. His four by eight-meter work, "From the New World" took him six months to complete.
As we know, Chinese landscape paintings mean to create impressionist, and surreal landscapes in one's mind rather than naturalistic re-creation; the scenes depicted are often no where to be found in reality. It'd be fascinating if we can create Chinese landscape in a 3D immersive platform, so we'd be able to walk in the environment for the first time.
This is not only a personal adventure, it'd also be a breakthrough in the history of Chinese paintings. With VR on one hand, and filmmaking on the other, I'm getting myself ready for new possibilities in immersive cinema.
CNN: Contemporary art is closely associated with freedom of speech. How do you reconcile that with being in a country that has reputation for censorship?
My art is about pretty general questions about globalization and urbanization instead of any specific events or social issues. I believe politics and social events are temporary, they change greatly through the passing of time.
I believe great art is something that can speak to generations and different cultural background, people who grow-up in different places. I am more willing to find a connection between people and try to express the untold concerns we have as global citizens.
Read more: http://www.cnn.com/2016/12/07/arts/yang-yongliang/index.html