KitchenAid is sick of waiting for you to cross it off your bucket list.
The brand's classic stand mixer has long been a pipe dream for most bakers, with its gorgeous range of colors and magical ability to whip up the perfect meringue, hands free. Priced upwards of $430, it's such a financial investment that many home bakers only dream of acquiring one by way of a wedding registry. And even for those who can afford the price, its countertop-eating size means only those with large kitchens could feasibly own one … until now.
The brand has announced that in June, it'll sell a smaller version of its iconic mixer in the U.S. called the Artisan Mini Stand Mixer. It's a better fit for cooks with small kitchens, and a slightly more affordable alternative to the classic size.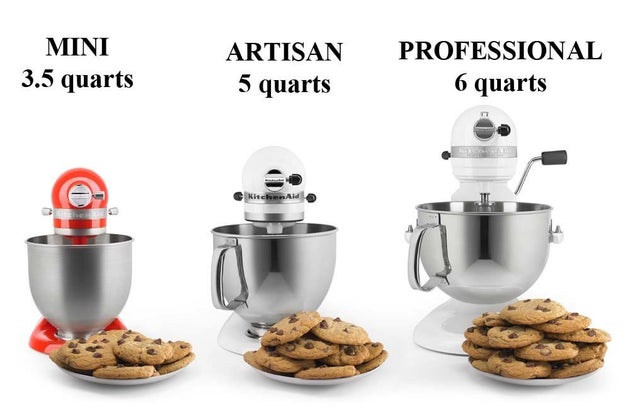 Geared toward consumers with "limited counter space and 'smaller batch' lifestyles," the new 3.5-quart capacity Artisan Mini model is 20 percent smaller and 25 percent lighter than the classic Artisan (or about 19 pounds, compared to 26). So exactly what type of consumer is KitchenAid targeting when they recognize space and batch-size are an issue? Millennials and Baby Boomers, of course, said Derek Ernst, KitchenAid's global marketing director for small appliances, in an interview with The Huffington Post:
"There are two demographics driving the demand for smaller batch sizes: Millennials and Baby Boomers. Millennials are waiting to get married much later in life and are slower to have children than any previous generation. Boomers are rapidly becoming Empty Nesters — only 12 percent still have children under 18 in their homes. Together, these two generations are driving a dramatic increase in one- and two-person households. These households don't need to cook batches for an entire family. They want appliances to fit their lifestyle."
The Mini doesn't stray too far from the classic, in terms of functionality. First, all of the attachments that fit into the classic KitchenAid stand mixers — the pasta maker, the spiralizer, etc. — also fit into the smaller version. And perhaps most importantly, the motor that runs the Artisan Mini runs with the same power as the Classic Series stand mixer. "This is substantiated by horsepower at the center shaft of the mixer," Ernst explained to The Huffington Post.
Because of this, there's a catch: the price. Because the Mini uses the same motor as the classic, the smaller model isn't drastically cheaper than the original. While the 5-quart Artisan mixer retails for $429.99, the new model's suggested retail price is $399.99. Not much of a difference.
"We believed strongly that it had to power all of our existing hub attachments, some of which require significant power to deliver great results," said Ernst. "This created a technical challenge for us as we had to pack the same level of performance into a smaller motor. The result is one of our most advanced motors yet."
Another possible downside is one you should expect — the 3.5-quart bowl doesn't hold as much batter as the larger versions. Whereas the larger versions of the mixer typically make 8 to 12 dozen cookies, the Artisan Mini will make about 5 dozen.
There's one burning question that's probably still on your mind: What colors does it come in? The mini comes in 10 colors, the first 8 of which are seen below, from top left: Hot Sauce, Guava Glaze, Orange Sorbet, Honeydew, Twilight Blue, Matte Grey, Matte Black, Matte White, Contour Silver and Empire Red.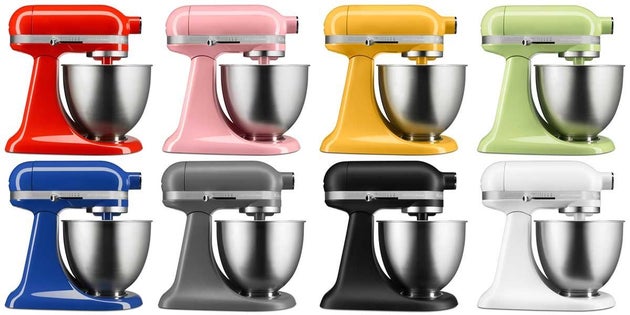 Stay tuned for the full product release in June, and tell us your thoughts in the comments section below.
Do you want to be more mindful about eating healthy foods that'll keep your mind and body at their best? Sign up for our newsletter and join our Eat Well, Feel Great challenge to learn how to fuel your body in the healthiest way possible. We'll deliver tips, challenges and advice to your inbox every day.
Read more: http://www.huffingtonpost.com/2016/02/28/kitchenaid-stand-mixer-mini_n_9354772.html