He went to Jared. But not anymore.
The self-styled Galleria of Jewelry has been among the more prolific purveyors of diamonds in recent years. But its parent company revealed on Thursday that its been struggling to get shoppers into its 270 Jared stores. Same-store sales fell an unsettling 7.6 percent last quarter, Signet Jewelers Ltd. reported.
Much of the malaise came from its 24 locations in Texas, which accounted for half of the declinesomething analysts tied to the oil glut. But Signet Chief Executive Officer Mark Light also blamed a presidential campaign season that has scared couples into closing their checkbooks. And not just for Jared, but industrywide.
Its a consumer mindset issue that relates to bridal, Light said. They just want to get some stability and understand whats going on as a whole in the world, and whats going on in the presidential election.
He added: Once we get through the elections, hopefully well see some stability.
Jared sells engagement rings and other sparkly jewelry in malls across America. Considered more upscale than its sister brands at Signet, Kay and Zales, Jared shops push more fine jewelry and diamonds than sterling silver and semiprecious stones. Its romantic (or cheesy, depending on your level of cynicism) television ads have long been on the airwaves, selling baubles to the middle-class man. He went to Jared, the woman in many ads would proclaim, thrusting her finger in the air, adorned with a glimmering diamond ring.
The reluctance of couples contemplating marriage is exceptionally bad news for Jared, which touts its diamond-encrusted rings for engagements, weddings, and anniversaries above all elseusually a safe bet because its such a stable segment.
Traffic was weak across the board for Signet, said Seema Shah, an analyst for Bloomberg Intelligence. Fine jewelry is a discretionary purchase, so people are spending less, she said. That was especially apparent in energy-dependent regional economies where Jared has floundered. Like Texas.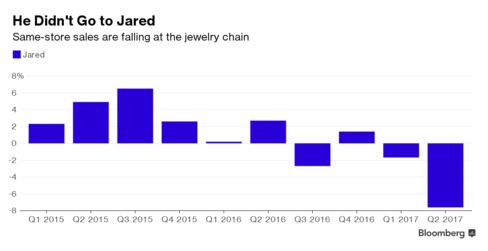 To turn things around, Jared is betting on Pandora charms. The chain is totally revamping how it sells these fun products, ditching a traditional presentation for full-blown branded boutiques within Jared stores. Those locations boast a wider selection of Pandora itemseverything from stackable rings to the charm bracelets the label is known forand are staffed with their own dedicated sales associates. This holiday season, Jared plans to advertise Pandora explicitly with the hope of drawing customers through its doors. The company is also trying to leverage its Chosen Diamond program, which Jared is in the process of rolling out to all its stores. The program shows shoppers the diamonds journey from rough to polished.
But Signet has problems that reach beyond Jared. Kay Jewelers, for instance, faced a horde of angry customers earlier this year after complaints that it was swapping gemstones when customers brought in rings for repair. In June, Light, 54, said the allegations were overblown and that the company was stepping up promotions to help pull people back into stores. We need to stay on top of it, and we need to get this under control, he said.
Maybe in November, when couples find out whether their nuptials will coincide with administration of Donald Trump, or of Hillary Clinton.
Read more: http://www.bloomberg.com//news/articles/2016-08-26/a-fraught-election-has-couples-and-jewelers-running-scared