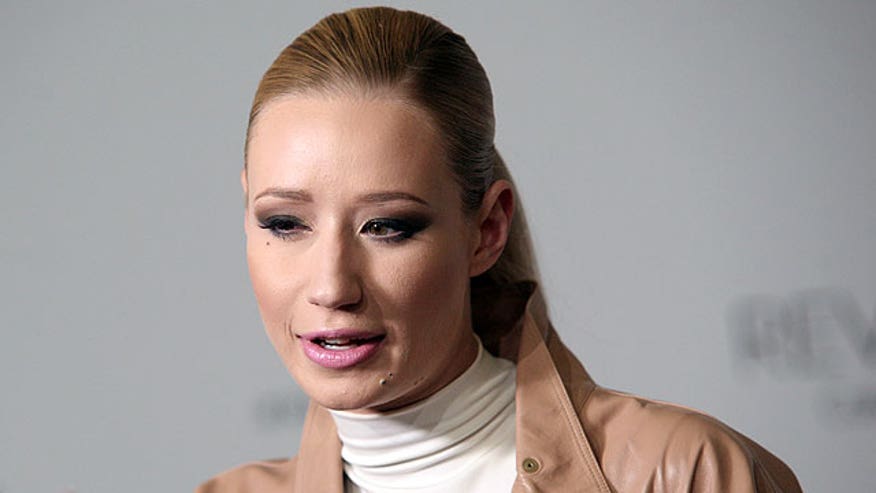 Iggy Azalea gave onlookers quite an eyeful when she went braless in a black tuxedo jacket to the GQ Awards in Los Angeles.
The rapper showed off her ample cleavage in the revealing outfit as she left her jacket fully open wearing nothing underneath but a long gold and emerald necklace.
The X Factor Australia judge protected herself from flashing even more fleshing by taping her blazer in place to cover her nipples.
PICS: Wardrobe whoopsies! When stars flash their fans
Keeping the attention on her chest, Iggy sported matching black trousers and some shiny gold stilettos.
Her revealing ensemble also showed off her glowing tan and taut abs.
Wearing long hair extensions, her blonde locks grazed her waist as she posed on the red carpet.
Super Bowl sex tape shocker: Will she be next Kim Kardashian?
Iggy has never been shy about speaking of her love for her surgically enhanced breasts and said she always planned on being open about going under the knife.
She previously told E! News: I love them so much I had to talk about them.
Everybody did say, I dont think you need to say it because no one will ever know because theyre so small.
Celebrity Beach Bodies: Best and worst
I said, I know but Im just going to say it [because] Im a blabber mouth!
Id feel better not to have some secret. Its much freer to say it and then you dont have to worry someone will dig it up.
Speaking to Vogue magazine in their 73 questions video, Iggy revealed the news about her boob job.
She said: I did change something: Four months ago, I got bigger boobs! Id thought about it my entire life.
She added, Its about proportion. I have to have everything tailored because I have such a small waist. Im a 2 or a 0 on the top, and a 6 on the bottom.
Read more: http://www.foxnews.com/entertainment/2016/11/16/iggy-azalea-goes-shirtless-at-gq-awards.html