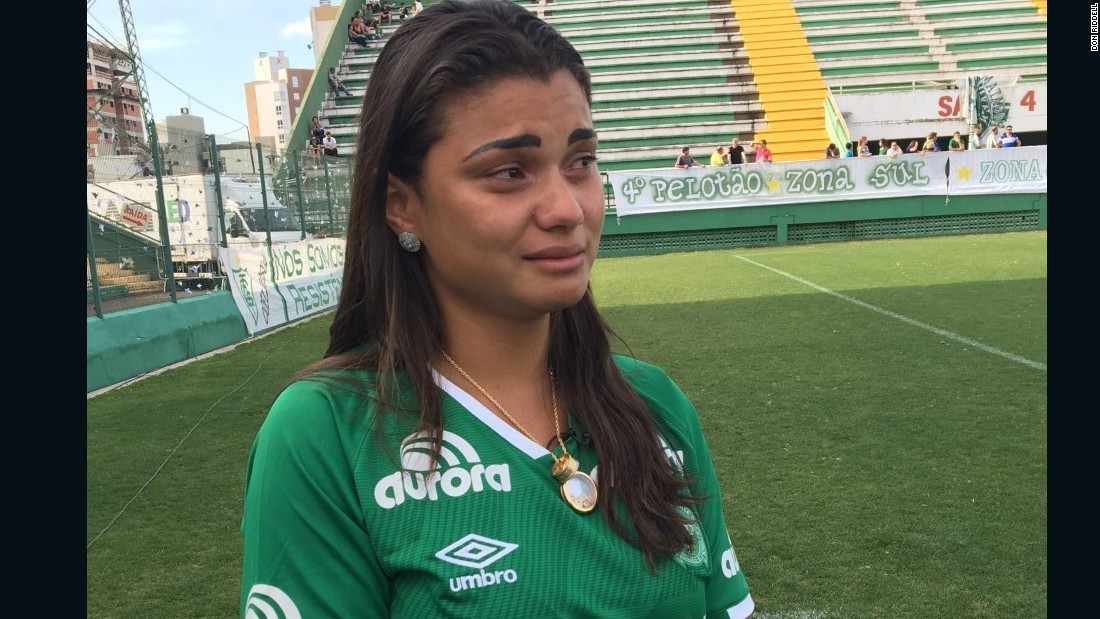 (CNN)She thought she was going to be married on Friday.
Instead, on Sunday, she cremated the love of her life.
Dener Assuncao Braz was one of the 19 Chapecoense players killed in the Colombian plane crash last week.
Amanda Machado had been with Dener for seven years and she's at a loss to explain the sudden turn of events.
"When I heard the news, my heart stopped and my world crashed. I wanted to die with him, I wanted to kill myself. I don't want a life without him."
Trembling with emotion, Amanda told me "The last time he sent me a message was before he got on the plane, but I didn't see it. I didn't get a chance to say goodbye, that's what hurts the most."
Since the disaster on Monday, Amanda has been seeking comfort with the other bereaved families at the stadium, she couldn't face going home to their apartment and seeing constant reminders of him, couldn't face opening the gift package he'd ordered while he was traveling.
She's mourning the loss of her soulmate, but also the waste of a young man with a bright future in professional football.
"He never wanted to be a hero, he wanted to be respected. He was in a great phase of his career, his last goal against So Paulo (in a 2-0 win for Chapecoense) was beautiful."
The tragedy of Amanda's situation is clear for all to see.
She and Dener had made their own wedding rings for the big day on Friday. She now wears hers on her finger, just below a love heart tattoo, she wears his on a chain around her neck.
The salvation for Amanda is the two-year-old son she had with Dener, little Bernardo is her reason to live.
"He is the spitting image of his father, everything is the same. Physically, his gestures, everything is like his dad.
"So, a little piece of him remained. I will do everything to raise him knowing that his father was the most extraordinary man."
Read more: http://www.cnn.com/2016/12/04/football/chapecoense-funeral-dener-fiancee/index.html