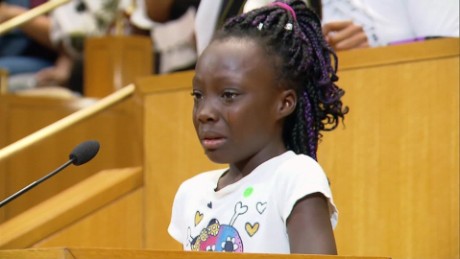 (CNN)A young girl climbed up a step ladder to stand at the podium before a tense Charlotte City Council meeting.
Petite in size, with braids in her hair and hearts on her t-shirt, Zianna Oliphant collected herself and delivered her message loud and clear.
"It's a shame that our fathers and mothers are killed and we can't see them anymore," she said with tears streaming down her face.
"It's a shame that we have to go to their graveyard and bury them. And we have tears. We shouldn't have tears. We need our fathers and mothers to be by our side."
Roberts had called for releasing the footage to the public before that occurred over the weekend. She had also vowed a transparent investigation of the Scott shooting and called for more community dialogue.
Residents voiced frustration over how black people are perceived by law enforcement. Among them was Zianna.
"I've been born and raised in Charlotte. And I never felt this way till now and I can't stand how we're treated," she said, wiping her cheeks on her short sleeves.
"We are black people and we shouldn't have to feel like this. We shouldn't have to protest because y'all are treating us wrong. We do this because we need to and have rights."
Read more: http://www.cnn.com/2016/09/27/us/charlotte-girl-city-council-meeting/index.html