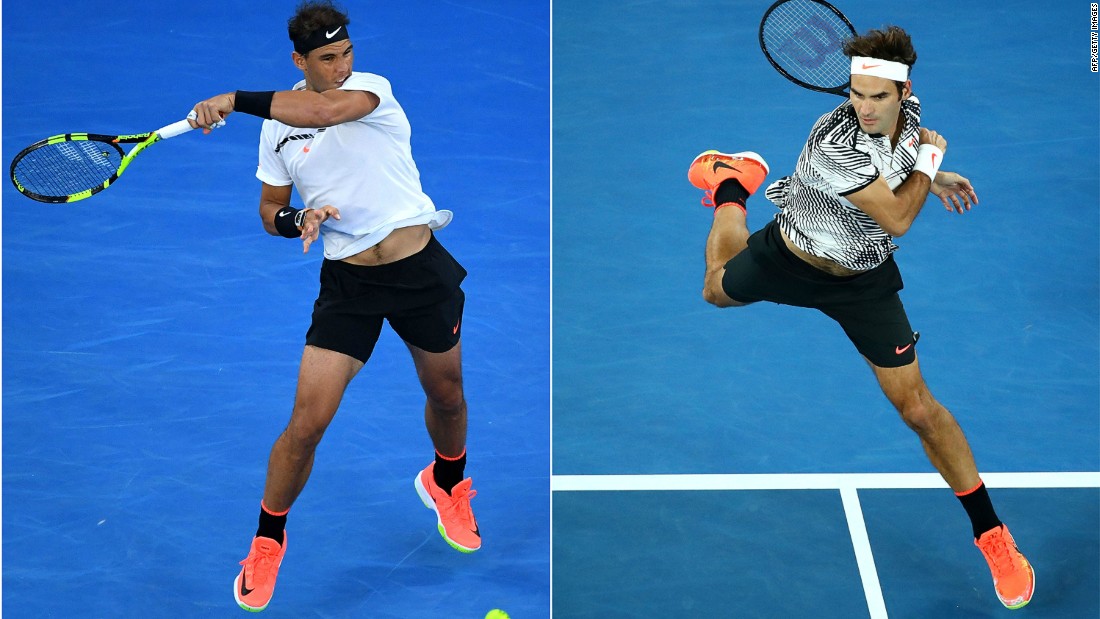 Melbourne (CNN)Craig Tiley looked slightly jaded. The Australian Open's tournament director had worked minimum 12-hour days over the past two weeks.
But a smile seeped from his face when play concluded Friday.
"I'm going to turn my phone off because I'm going to have a lot of friends come out of the woodwork that want tickets," Tiley joked to CNN.
Indeed.
The tennis gods that left the year's first major beleaguered 12 months ago thanks to
allegations of match-fixing
in the sport did an about face, handing the Australian Open two colossal singles finals few thought was ever possible.
Ten years ago, yes, but this wasn't supposed to happen in 2017 as injuries and father time — often intertwined — unfortunately intervened.
After Serena Williams beat Venus Williams 6-4 6-4 in a contest Saturday between siblings who now own a combined 30 grand slam titles, Roger Federer faces Rafael Nadal in Sunday's men's final in what Andy Roddick called the "most important match in Australian Open history and possibly grand slam history."
Roddick — whose press conference humor never did justice to his vast intelligence — broke things down in simple fashion.
It was hard to argue with the American's logic as he pondered the historical significance of the tussle between his pal and frequent tormentor on court, 17-time grand slam winner Federer, and 14-time grand slam winner Nadal.
No tandem has won more grand slam titles in the men's game than Federer, 35, and Nadal, 30.
"If Rafa wins, it's 17-15 and the French Open is around the corner," he told reporters in Melbourne earlier in the week, after being elected into tennis' Hall of Fame. "It's literally game on for the most slams ever.
"If Roger wins, it's 18-14. I don't know if that divide gets made up."
Probably not.
Greatest match of all time
The last time the behemoths played in a grand slam final was at the 2011 French Open when Nadal prevailed to claim the sixth of his nine titles on the clay at Roland Garros.
Three years earlier they produced what many consider to be the best tennis match of all time, Nadal beating Federer — not to mention fading light — in five sets to end the Swiss' five-year reign on the grass at Wimbledon. Already well known, the duo transcended the sport.
They are still enormously popular almost a decade later: Nadal — the powerful left-hander who hits with unprecedented spin — boasts nearly 12 million Twitter followers and Federer — a right-hander with quiet feet and a classic game — about 6.5 million.
A win for Nadal and he would become the first man in the Open Era to win each major at least twice; Federer would become the second oldest man in the Open Era to win a major behind Australia's Ken Rosewall, a regular visitor to the Australian Open.
"Maybe I lost the Wimbledon final in 2008 because of too many clay-court matches, because he crushed me at the French Open final," Federer told reporters. "I think it affected my first two sets at Wimbledon. Maybe that's why I ended up losing.
"Now it's a different time. A lot of time has gone by. I know this court allows me to play a certain game against Rafa that I cannot do on center court at the French Open."
The hard court on Rod Laver Arena is playing considerably faster than years before, giving even more sting to Federer's flat, penetrating groundstrokes.
"It's playing fast and that's what Roger loves," Martina Navratilova said at Saturday's legends gathering. "I would say it's a 50-50 because of the court. If it was slower like last year I'd say Rafa has the edge."
He has surpassed "his wildest dreams" in making the final, beating top-10 players Tomas Berdych, Kei Nishikori and Stan Wawrinka.
He, too, benefited from an extra day off between the semifinal and final, which may be key given Federer took a medical timeout — a rarity for Federer — in the five-set win over Wawrinka.
"I'll leave it out all here in Australia," said Federer. "If I can't walk for another five months, that's OK. I'll give it all I have."
Fatigue a factor?
Nadal also went five sets in the semifinals and even given his great powers of recovery, figures to be tired. Just how tired we'll find out.
Nadal needed five hours to fend off an inspired Grigor Dimitrov, elevating his game when down two break points at 3-4, 15-40 in the fifth. It was another uplifting moment for Nadal, who earlier in the event ended a three-match losing streak in fifth sets by beating German prospect Alexander Zverev. He later saw off Wimbledon finalist Milos Raonic in the quarterfinals after the Canadian won their match in Brisbane two weeks ago.
Nadal won that 2009 final on the back of a five-hour win over Fernando Verdasco, but he was quick to point out he is now eight years older.
"It's a very important match for both of us," said Nadal. "I hope to be ready to compete well again. I need to go back to the hotel, to rest well, and to recover from now."
Fans certainly hope for a competitive contest. But even if not, having the two titans in a final together after it seemed like it would never happen again is plenty good enough.
"Tennis wins, fans win, sports wins," said three-time grand slam winner Lindsay Davenport. "Being a huge fan of both, I'm going to be happy either way."
Read more: http://www.cnn.com/2017/01/28/tennis/australian-open-tennis-federer-nadal/index.html