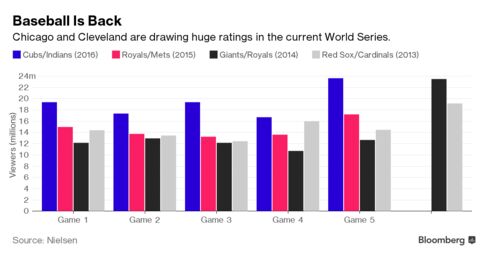 Baseball is the new football.
Television ratings for the current World Series are, to put it scientifically, boffo. When the title is decided, average viewership may well be the highest that baseball has seen in 12 years, since the Boston Red Sox beat the St. Louis Cardinals in the game's 100th championship battle, breaking Babe Ruth's curse. That's even as viewers turn away from the NFL and the Olympics, traditionally the clutch performers in the ratings game.
To be sure, everybody loves a loser not just baseball fans. History is proving to be a powerful draw as both teams seek to end World Series droughts: a statistically improbable 68 years for the Cleveland Indians and a cosmically cursed 108 years for the Chicago Cubs1.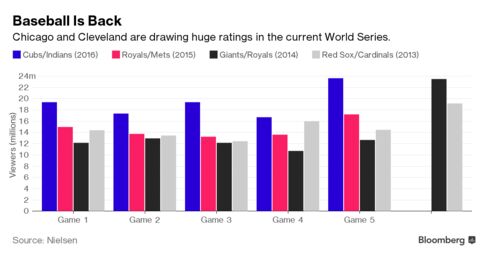 But something else is driving the viewing boom. Chicago fans are, literally, everywhere. You know that friend you have who lives far from the Windy City but will be agonizing over every pitch tonight? Well, there are a lot of those folks. In the past five years, no major city in America has seen more people move away to other parts of the country, according to census data.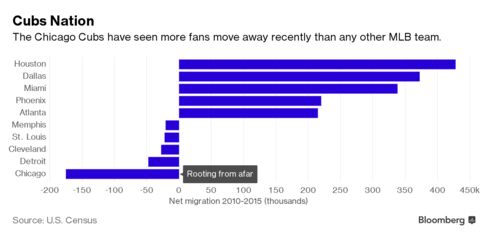 Samuel Nadell, who does public relations for Oakley sunglasses in New York, hasn't lived in Chicago since high school seven years ago. He flew back for games three through five, meeting up with eight old friends from the city's North Shore suburbs.
"Honestly, I booked the trip when they were down two games to one against the Dodgers" in National League Championship Series, he said last night from O'Hare Airport. "I always told myself, if they are ever on the verge, Im going to be in the city."
Tonight, as the Series swings back to Cleveland, Nadell will still be surrounded by Cubs fans, either at a buddy's apartment in Manhattan or Kelly's Sports Bar, a Chicago-philic bar on the Lower East Side.
Meanwhile, Chicago is welcoming a huge number of international immigrants and little Cubs fans (babies). Essentially, the city is acting like a AAA ball club managed by Rahm Emanuel, bringing in top prospects, getting them settled, and then shipping them off to other cities.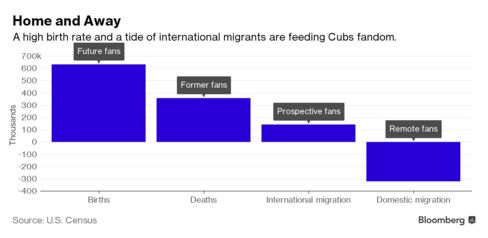 Jed Kolko, chief economist at job-listings site Indeed and a senior fellow at the University of California at Berkeley, crunched some numbers for us and found that 5 percent of U.S. residents were born in Illinois, but only 4 percent of the countrys population lives in the state now.
Interestingly enough, Cleveland has similar demographic dynamics. From 2010 to 2015, the Indians' hometown had net migration of negative 27,711, behind only Chicago and Detroit.
Fandom can be fickle, especially if your team is perennially disappointing. But for a long time the Cubs had another ace: national broadcasts.
For nearly four decades, Chicagos WGN-TV, a cable superstation, beamed Cubs games all over the country, giving the hapless club exposure not enjoyed by more successful teams. Since both the Cubs and the station were owned by Tribune Broadcasting, the company could broadcast "free" video content to kids in Florida and Fargo, N.D., and sell some Sammy Sosa jerseys in the process2. The Tribune sold the Cubs in 2009 and stopped broadcasting the games nationwide six years later.
Economists have even suggested that the widespread popularity of the club is one of the reasons it has more or less stunk for so long. The team never had to be good to be loved, the theory goes.
As for the expatriate Cubs and Indians fans, if they had stayed in their baseball hometowns, they would still be watching the Series, but theyd probably be doing it en masse, possibly at the stadium or a nearby bar. Instead, they're holed up in living rooms across America, which, incidentally, are much more conducive to crying.
Read more: http://www.bloomberg.com//news/articles/2016-11-01/cubs-nation-is-way-bigger-than-you-thought