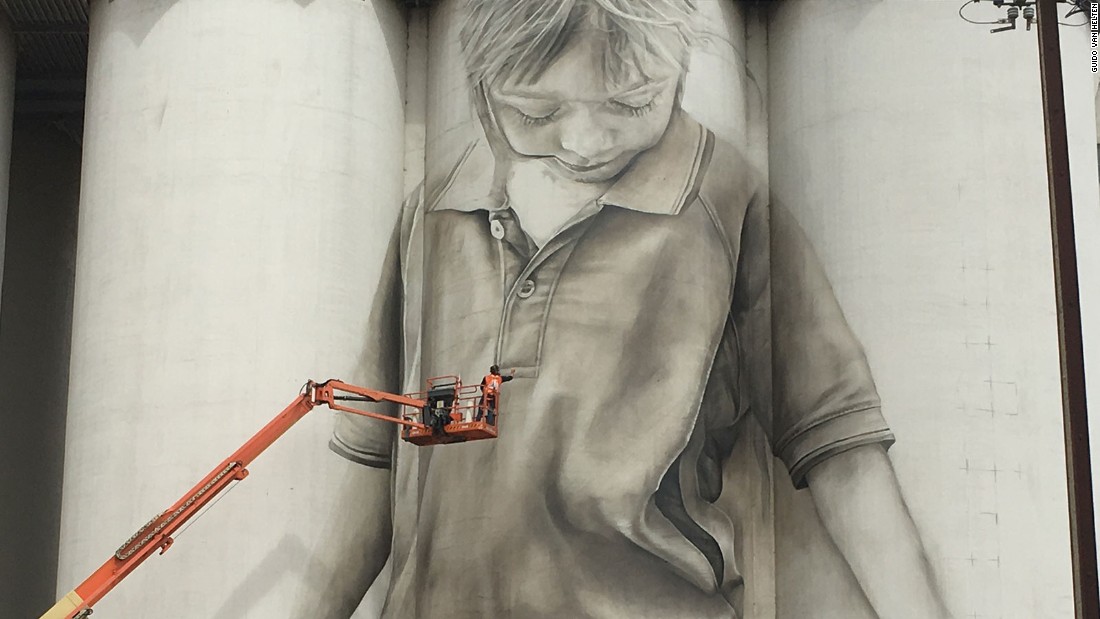 (CNN)The imposing grain silo situated in the small Australian town of Coonalpyn has dominated the region's rural landscape for over 50 years, but has never garnered much attention.
That was, until the arrival of artist Guido van Helten.
Atop his cherry-picker, van Helten spends his days painting the 30-meter-high, five tower silo. Now he and the silo have become something of an attraction, drawing in curious sightseers and creating a buzz around the once sleepy town.
"Yeah, admittedly, it's kind of an odd thing to do. Paint giant things on buildings," says van Helten. "They're really interesting surfaces and a lot of them are unused. It's only natural for me to want to try to paint them."
In Coonalpyn, van Helten has taken inspiration from the town's school children. It's a conscious decision to look towards the future, in a town with only a small number of young people and an older generation with a predilection for looking to the past.
"There's a lot of nostalgia in the world right now, for times gone by, that's just not really inclusive of future generations. I want people to think about the next generation and how they are going to live."
The town's residents are under no illusion van Helten's work will single-handedly turn their community's fortunes around, but there is now a growing sense of optimism about the future.
"I don't think it will ever get back to the way it used to be," says Dewhurst. "But it should be able to sustain itself, instead of being a ghost town."
"I hope they make the silos bigger and he comes back and does more paintings."
Read more: http://www.cnn.com/2017/02/26/arts/australia-silo-art/index.html