Ballerina Ashley Bouder is crying. Shes standing alone in a rehearsal studio in front of 20 or so dance journalists and several funders of her small self-titled ballet company, and shes crying. And Im pretty sure its my fault.
Shes just finished showing us a snippet of pas de deux that she choreographed, and that shell perform in just over a weeks time with her fellow New York City Ballet principal dancer Andrew Veyette. The entire evening of dancing is devoted to women choreographers and to women composers. In over 15 years of dancing with City Ballet, Bouder tells the assembled crowd, shes danced works by about 40 choreographers and can count only seven women among them. She cant name a single woman composer whose music shes danced to not a single one.
Which brings us to why Bouder is crying. Ive asked her why it matters to her that more women be allowed to choreograph ballets. What does gender have to do with it?, I ask, channeling the purportedly gender-blind proponents of pure, context-free meritocracy. Ballet is ballet, right? Does it really make a difference if its made by a man or a woman?
She takes a deep breath, and begins to answer, her voice breaking before she can get more than a few words out. I think a lot of it is about telling little girls that they can. I have a daughter. As a kid, I was told that I cant, a lot. For me, to have my voice be relevant, and for people to listen, is really important. To say what I have to say, even if they dont like it. I get to say it. The room erupts into applause, and Bouder wipes her eyes and nods, her short brown ponytail bobbing.
Bouder joined the New York City Ballet at the age of 16, after spending a year in its feeder school. As a member of the corps de ballet, she was soon assigned soloist roles, and quickly promoted to the top rank of principal. For nearly half her life, shes been dancing in one of the worlds best ballet companies, the keeper of the flame of founding choreographer George Balanchine, whose vocabulary of movement and once-avant garde style long ago became synonymous with American ballet.
Bouder describes herself as a Balanchine ballerina, and is admired for her mastery of quick footwork and speedy jumps. Where other ballerinas seem to drape themselves, long and languid, over choreography, Bouder appears to throw herself at it with staccato precision. After watching her attack turns and balances, you wouldnt be surprised to find that shed pierced a hole in the stage floor with her pointe shoe.
The lions share of choreography performed by City Ballet is by Balanchine, who died in 1983. In his absence, other choreographers have added to the repertory he built with help from Jerome Robbins. Current Ballet Master in Chief Peter Martins, and choreographers Christopher Wheeldon and Justin Peck, in particular, have left their respective marks on the company. Youve probably noticed one thing those choreographers have in common: Theyre all men.
The dearth of women choreographers has confounded parts of the dance world for some time: every few years, the debate over the overrepresentation of men in the ranks of top-tier choreographers, particularly in classical ballet, comes to a new boil before simmering down again. Its not only choreography where women get short shrift. The ballerina may be the visual symbol of the art form, but behind the scenes, the levers of power and creative control are largely pulled by men. The overwhelming majority of companies in the U.S. are helmed by male artistic directors, and the choreographers they tap are mostly creating work set to music by male composers.
But a few years ago, the debate heated up again when City Ballet performed a program entitled 21st Century Choreographers, featuring work by a handful of young modern ballet dance-makers, every single one of them a white man. The poster was jarring in its uniformity, and people took notice. How can an art form be alive, Dance magazine asked, when it excludes so many?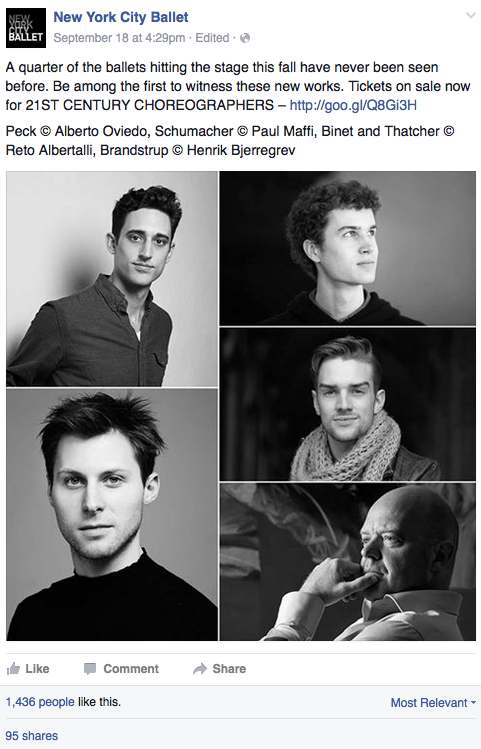 Women bring a point of view that men dont have, Bouder tells me later in a phone interview. But it doesnt have to be anything particularly different to the table. Its about having an equal voice to express our opinions and our feelings, too. She says that because shes in a position of power a top-tier dancer at a top-tier company, with a sizeable fan base and following. She wants to use it to speak out about inequities in the ballet world. People will listen, and I think choreography by women just needs to be seen and heard.
Starting this week, shes also walking the talk. The Ashley Bouder Project is teaming up with New York Jazzharmonic for an evening of women-created works: two new ballets, both choreographed by women and set to music by women, and the revival of a Susan Stroman ballet set to music by Duke Ellington. Theyll all be danced by Bouder and her friends from City Ballet, including several fellow principals.
Other, more established companies have begun to put on similar programs. Pacific Northwest Ballet presented one last year, and the Cincinnati Ballet just announced that in their upcoming season, eight out of 15 choreographers whose work will be performed are women, five of whom are presenting world premieres.
Bouder hopes that City Ballet will be more conscious as it crafts its programs and picks choreographers, too. The pale male poster fail was a big turning point, Bouder said. Its not like any of those choreographers on that poster of five white men didnt deserve to be there. Theyre all talented, they all have great voices, and theyre creative and their ballets are good. But its really shocking when you go past the poster and you see five men who look almost identical in their black-and-white headshots!
Negative media coverage of the homogenous programming had an effect, she notes: the next fall season the company performed works by two women, Annabelle Lopez Ochoa and principal dancer Lauren Lovette. That was wonderful, Bouder said. There was a response to that criticism and that public outcry of Where are the women? She hopes the small uptick in the inclusion of women isnt a flash in the pan or a short-lived trend. Were such a big company, and people really follow the example of the New York City Ballet, so I hope they will continue to foster the contributions of women in the company. I hope that continues, and I think that it will.
Boulder says that companies have a responsibility to help close the gender gap in choreography, long before it comes time to craft an all-women or women-heavy program. I think that special attention needs to be paid, especially in places that foster creativity and choreography, to fostering those young female choreographers and giving them a little bit more attention, Bouder said. A little more of a chance to develop, and listening to them a little more when theyre young and say they want to choreograph. The New York City Choreographic Institute, which is affiliated with City Ballet and has trained many of todays leading ballet choreographers, should heed her advice: theirlist of alumni is almost comically male-dominated.
Though companies have a role to play, Bouder points out that some of the inequities that make it easier for men to be creative and to start learning to choreograph early are built into the fabric of the art form. For dancers in the corps, when a lot of people are young and they have ideas and they want to do things, the workload for women is heavier than it is for men. In most ballet companies, because of how ballets are structured, women perform more than men. You put on a ballet like [Balanchines Walpurgisnacht Ballet] and theres one guy and, like, 20 women. [Editors Note: Its actually 24.] At New York City Ballet, our guys dance a lot more, but the women do far more than they do. Even if there are guys who are on every night, there are women who are on in three ballets every night. Which means more rehearsal time, too, during the day. Which means less creative time. Even womens stage makeup takes more time, Bouder notes, and so does breaking in and sewing ribbons on to pointe shoes, which professional ballerinas must do on a daily basis. In her early years, Bouder says, I was on stage every night and then I had to go home and sew my pointe shoes. Youre just preoccupied. Creativity requires time, and men have more of it than women do.
You need more than time to be bold and take risks you also need a culture that gives you permission to do it. And Bouder says that boys in ballet are far more likely to get that than girls are. Because girls outnumber boys in ballet schools as well as in companies, she explains, theyre held to a higher disciplinary standard. There are so many little girls that they need to almost weed them out, the ones who are serious and the ones who arent. So, she says, you have to be perfect, not only in class but in attitude and decorum and you have to fit in and be quiet. And the boys in some cases are allowed to just get away with murder… but it doesnt matter because theyre just trying to keep them in the class and keep them dancing, because you need boys to partner the girls. This means more freedom outside of the studio, too. And theyre allowed to be creative and theyre allowed to try things, and girls are not. They can just do whatever as long as they keep showing up.
And then, the boys become men, and they get to make the ballets and run the companies? I ask. That seems like a pretty raw deal for the women. Bouder agrees. Its really unfair when youve spent your whole life playing by the rules, only to be stifled.
Bouder became a mother last year, shortly after a video of her doing an eye-popping pirouette combination while almost nine months pregnant went viral. She wasnt back to full dancing strength in time to work with the two women choreographers whose works were performed at City Ballet this season. So shes taking matters into her own hands. I feel like Ive gotten to the point in my career where I can get a message out and people will listen and maybe I can make a difference…. So that it doesnt have to be this way. I want to be a voice for that, and I also want to be an example of someone who is actively trying to make a difference.
Bouder says that having a daughter has changed the way she thinks about which voices get heard, and which get silenced. And its also made her more daring outside of the studio and offstage. Having my daughter just makes me braver, she says. It makes me want to step out and do the things that I hope she has the courage to do.
The Ashley Bouder Project will perform with New York Jazzharmonic Friday, March 17, and Saturday, March 18, at Symphony Space.
Read more: http://www.huffingtonpost.com/entry/behind-the-tutus-ballet-is-a-boys-club-ashley-bouder-wants-to-fix-that_us_58c9302ee4b01c029d77a81f?l7xk39lg7uru4ygb9&ncid=inblnkushpmg00000009