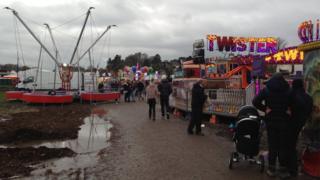 Organisers of a family Christmas event criticised for being a "disgusting mud bath" have accepted it had problems, blaming difficulties on a storm.
Hundreds of people took to social media to discuss the Bakewell Winter Wonderland at the weekend.
Several complained at what was on offer for the 7 ticket, while others defended the event.
Organisers said a "massive storm" caused some issues, but they worked round the clock to make it happen.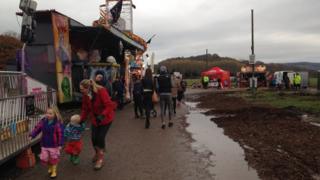 Co-organiser Claire McDowell said: "We do hold our hands up and say initially we did have some issues due to the massive storm we had the night before we opened and into the early hours.
"Our grotto did get damaged, so unfortunately Santa didn't arrive until [14:00 GMT]. But we have worked round the clock to make this event happen and try and make everybody have as much fun as they can."
In a separate statement, organisers said people who did not see Father Christmas were offered a refund, and several people on Facebook confirmed they got their money back.
Some stallholders also complained about the lack of organisation.
Stephen Lipscombe wrote on the event's Facebook page about his wife's mulled wine stand.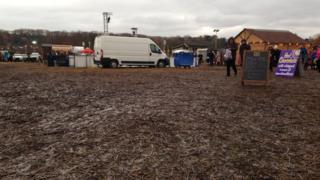 "She has made a big loss this weekend, after paying to stand at the event, raw materials, Christmas decorations, transportation, accommodation, and even hiring a generator because no electricity was laid on."
But not everyone was as gloomy.
Melanie Barker wrote: "We went yesterday and had a really good day… after reading all the bad reviews we were going to go somewhere else but I'm glad we didn't. We had a lovely time and picked up some beautiful gifts."
Trader Dave Yates said the weather made it tough for everyone to get their stalls on site.
"Just a hiccup; it's just a shame people have had a negative experience – but then people don't post positive remarks as much as the negative."
The news of a "winter blunderland" drew amused comments on Twitter, with several people claiming it heralded the start of the festive season.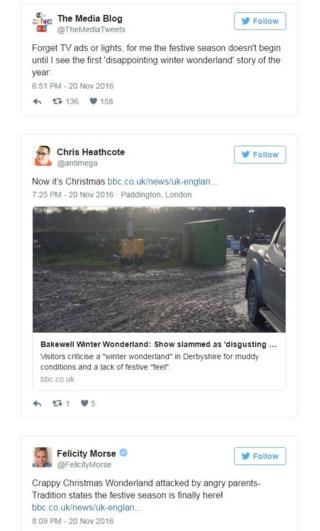 Read more: http://www.bbc.co.uk/news/uk-england-derbyshire-38049768