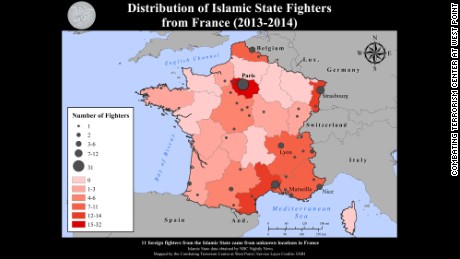 Nice, France (CNN)A picture is slowly starting to form of what led Nice, France, attacker Mohamed Bouhlel to carry out the deadly terror attack in the Mediterranean resort city.
French Interior Minister Bernard Cazeneuve said Saturday there were indications the attacker had been "radicalized very rapidly."
CNN learned Sunday that Bouhlel sent a text message shortly before Thursday's attack to an unknown recipient saying, "Bring more weapons 5 to C," according to a representative for the Paris prosecutor's office.
It appears Bouhlel also had serious mental health challenges. His father said he suffered from nervous breakdowns in which he "broke everything," and that he believed his son's mental health deteriorated after his separation from his wife.
By all accounts Bouhlel had a volatile personality. In March he was given a six-month suspended prison sentence after throwing a wooden pallet at a driver following a traffic accident. According to reports in the French media, a neighbor said that Bouhlel was so angered when his wife left him that he "defecated all over the place" and shredded his daughter's teddy bear.
But Bouhlel does not appear to have launched the attack in a sudden fit of anger. The fact he rented the truck three days beforehand suggests it was premeditated, as does the symbolic date chosen: July 14, the French national day, when thousands gather on the Promenade des Anglais in Nice to witness the fireworks.
A source close to the investigation told CNN that local associates of the Nice attacker detained for questioning have told interrogators that Bouhlel started speaking supportively of ISIS days before the attack. Four of his associates were arrested late Friday and early Saturday in Nice.
Lone wolf?
The Nice attacker appears to fit a pattern. In the last two years, multiple terrorist attacks in the West have involved a blend of radicalization and mental health factors, a category of terrorist some analysts such as Max Abrahms have termed "loon-wolves."
Terrorism analysts are grappling with the reasons behind the spate of such attacks, but there is some consensus that psychological disorders can narrow the pathway between radical thought and action.
Radicalized Riviera
The Nice attack has highlighted concerns about radicalization in the south of France, a region with a high concentration of first-, second-, and third-generation North African immigrants. Away from the glitz of Cannes and Nice on the seashore, many live in gritty housing projects where unemployment and feelings of alienation run high, making young men and women vulnerable to jihadi preachers such as Diaby.
In its study of ISIS registration documents, the Combating Terrorism Center at West Point discovered about a fifth of French ISIS recruits whose registration documents have been found hail from the southeast coastal region of France.
In early 2014, one of them, Ibrahim Boudina, returned and was arrested in the Cannes area as he prepared a bomb attack that would have potentially targeted the Nice Carnival.
With ISIS claiming credit for inspiring the Nice attack, the worry is more attacks are inevitable.
Read more: http://www.cnn.com/2016/07/17/world/nice-attacker-mohamed-bouhlel-why/index.html