In the early 1990s, painter Kerry James Marshall created a series of paintings depicting black love a subject that, despite being glaringly simple, was largely absent from the annals of art history.
In one 1992 painting, Slow Dance, a black couple slow dances together in their living room as music notes swirl around them.Marshall immortalizes this romantic moment, exceptional in its ordinariness, magical because its mundane.With his paintbrush, Marshall sought to normalize the banal elements of black life that are nearly always overlooked by art, film, and cultural representation. The basic gesture of depicting black couples hanging out was something revolutionary.
Artist Leslie Barlow had Marshall on the mind when she embarked on her most recent series Loving in 2015. The mixed media paintings depict interracial couples based around the Minnesota area, where Barlow lives and works. The series takes its name from the landmark Supreme Court case Loving v. Virginia, which celebrated its 50th anniversary this year.
Fifty years feels wildly short when considering this is how long interracial marriage has been legal in the United States.And still, prejudice regarding interracial couples endured long past theLovingruling.I think a lot of people forget that there is this history of discrimination, and it didnt just disappear when the Supreme Court banned anti-discrimination laws, Barlow told The Huffington Post. I wish that was the case, but racism is totally alive and well in this country.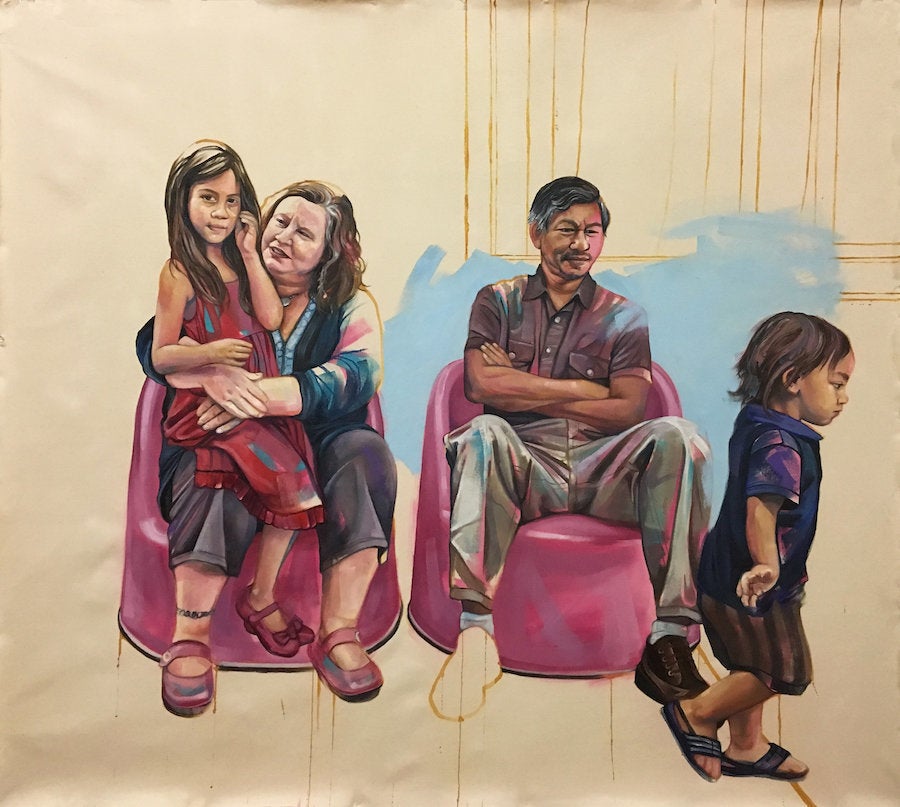 This inequity is painfully clear, for example, in the history of art, where oil paint has been used to tell certain kids of stories about certain kinds of people for centuries, leaving whole populations unrepresented and seemingly overlooked. My work is about having agency over the representation of my story and stories like mine, Barlow said. Its a sharing of experiences we dont often see.
Barlow, who is mixed race, began making work that grappled with themes of race and identity while in graduate school. Her earlier work mainly depicted members of her immediate family, but with Loving, Barlow hoped to create equally personal works for a larger community.
In particular, she was interested in the local MinneapolisSaint Paul population, which still lags behind most other U.S. states in terms of race and representation. The lack of diversity in Minnesota did have an impact on my racial development and ideas of what was normal, Barlow said. She resolved to illustrate interracial couples, still largely erased from the cultural archives, hoping the intimate depictions could steer viewers away from binary methods of thinking about race that operate primarily in terms of black and white.
For the series, Barlow selected couples and families in the local vicinity, most of whom she knew through personal connections. I wanted the paintings to meet these families where they are, she said. She began by photographing her subjects in a space they felt comfortable whether at home or roaming the neighborhood. She then rendered the photographic images onto un-stretched canvasses or wooden panels, starting with acrylic underpainting and adding layers of oil paint and pastel.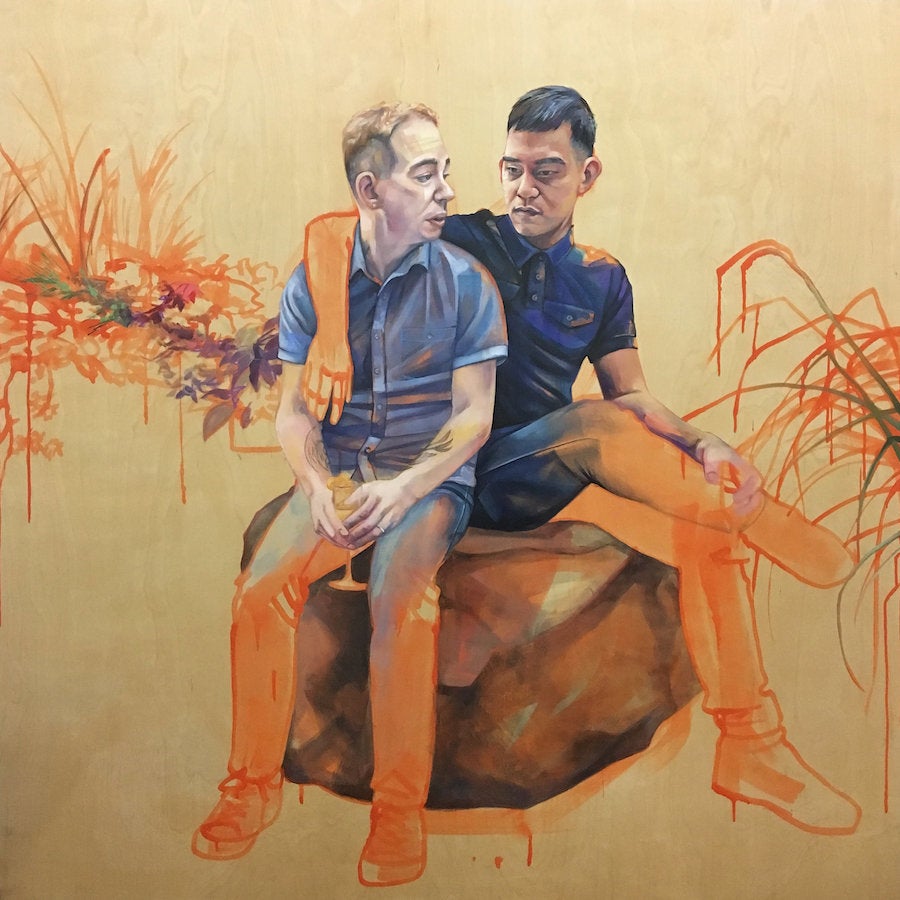 Barlow also experimented with sewing and collaging fabric onto the works, subtly alluding to the traditions of quilting and tapestry. The quilt is a coming together of these disparate materials to make something beautiful, whole, uniquely its own thing, she said. It ends up being a metaphor for these people coming together to become one family. Quilts also bring up these ideas of domesticity and family, the warmth of that.
Although the Lovingcase is the impetus for the series, the paintings themselves depict couples and families hanging out, cuddling, drinking a glass of wine just being, together. I want each painting to be unique, but to also have this thing in common of feeling normal, she said.The artist communicated with all of her subjects beforehand to agree on an environment and activity that represented their daily lives. The paintings felt mundane in the best of ways.Thats what I want, to normalize these images.
Although race and identity have long been ideas central to Barlows artistic project, they are especially necessary right now, when racist and anti-immigrant rhetoric are becoming commonplace under President Trumps administration. I dont shy away from my art being political, Barlow said. I do believe in the power of images and social change. I think, as an artist, its my duty to reflect the world and whats going on within it. I feel its important I continue to push that.
Leslie Barlows Loving is on view until March 25, 2017 at Public Functionaryin Minneapolis, Minnesota.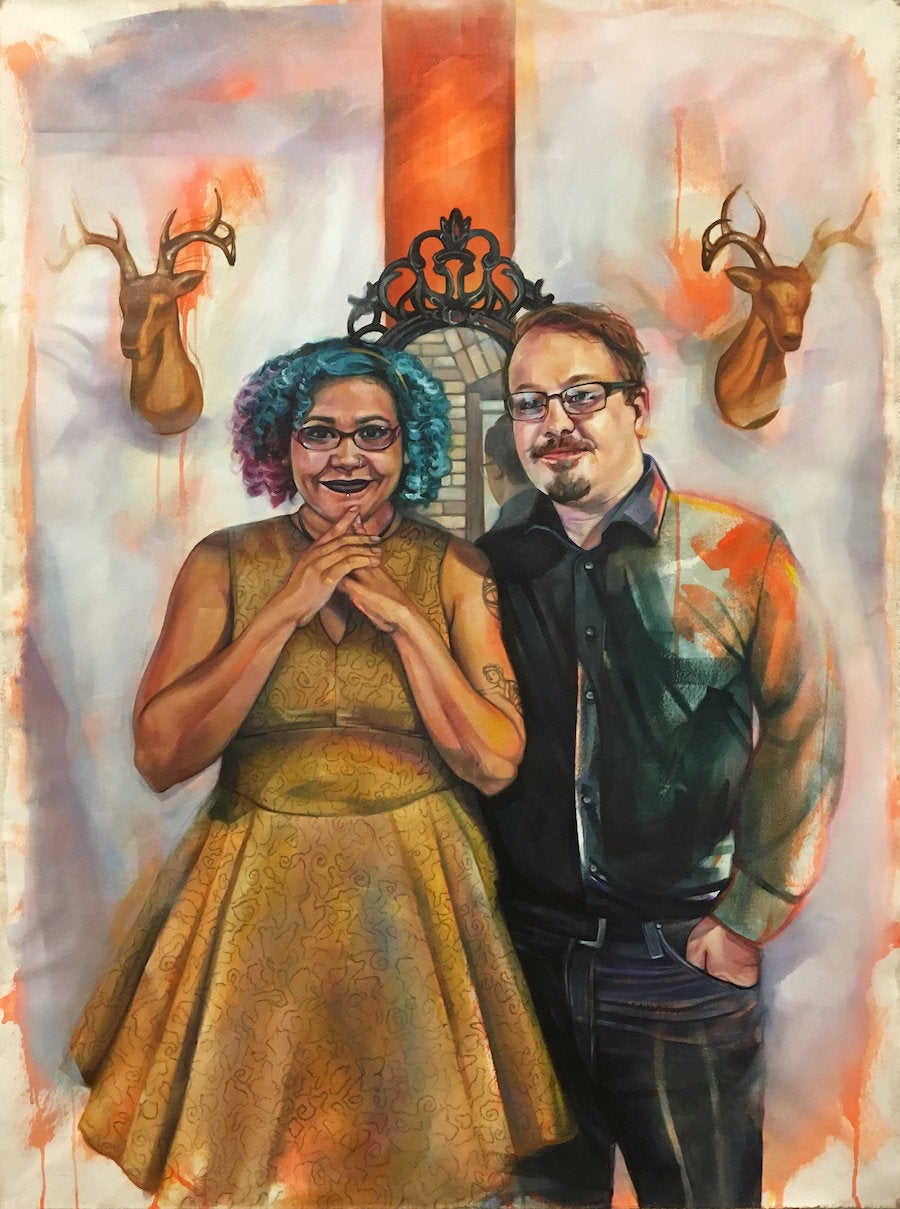 Read more: http://www.huffingtonpost.com/entry/leslie-barlow-interracial-love-paintings_us_58caf16ee4b00705db4d8ea9?ncid=inblnkushpmg00000009