At 22 years old, Shamsia Hassani became interested in graffiti spray painting the surreal visions fostered in her imagination onto empty city walls. Her family was supportive yet worried, and understandably so. Street art is a risky endeavor in itself, but for a young woman based in Kabul, Afghanistan, the possibility of harassment and abuse was real, if not inevitable.
Hassani, however, was committed to her calling. "It's all about women," she explained to The Huffington Post. "It's about trying to stay strong in a society that is not good to women."
And so she made the city of Kabul her canvas, adorning its public, blank spaces with vibrant depictions of young women somewhere between self-portraits and universal renderings of sensitivity and strength. Often her subjects are pictured playing instruments, daydreaming, or wandering through the city streets. Sometimes piano keys or skyscrapers blend into the women's dresses and hijab, emphasizing the proximity between environment and personality, as well as reality and fantasy.
"They are characters relaying different messages and different ideas," Hassani said. Her recent series, "Chameleon," focuses on all the varying personalities that coexist within her own consciousness. "When I change my environment, I also change myself," she explained.
Specifically, Hassani felt anxious and self-conscious when visiting Iran despite being born there because of her Afghani heritage. "When I am traveling, sometimes I worry about my nationality and what people think about me," she said. "People don't always have a good idea about Afghani people. But, with chameleons and me, the color of the heart never changes."
Hassani's paintings portray young women in vibrant and succinct terms their heart-shaped faces marked only with sweeping black eyelids and luxuriant lashes, and perhaps a small indentation where a nose should be. The artist's pop-surrealist style riffs on traditional, folkloric Afghan imagery, infusing it with a contemporary, feminist state of mind.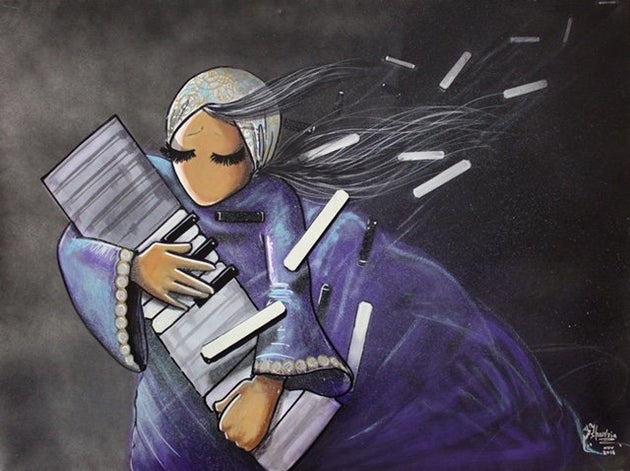 Since she began spray painting in 2010, Hassani has faced a great deal of hostility. "A lot of closed-minded people try to stop my work," she said. "They use a lot of bad words." Some opponents believe her work violates the tenets of Islam. Others believe that women should, as Hassani described, "stay at home."
The rampant misogyny Hassani has faced, however, only propels her purpose further. Her works speaks in the face not only of sexist beliefs at home, but also abroad. In particular, Hassani challenges the Western assumption that burqa and hijabi limit women's freedom, when there are so many more prohibitive restraints on women in place than their clothing choices.
"In our tradition a woman should cover her head," Hassani explained. "But if women took off their burqa, nothing else would change about their lives. They still have no education; they still cannot share their ideas. Freedom is not in taking off the burqa, it is in having peace and freedom. The style or clothing is not important."
Most often, Hassani begins a new work by sketching it out in small notebook, teasing out her idea into a visually compelling composition. Then, she translates the image onto a larger canvas. Sometimes, she visits a location in person, spray painting in classic graffiti fashion. But when a site is off-limits for security reasons, Hassani opts for a technique she devised called "dream graffiti," which allows her to achieve her ideal vision without jeopardizing her safety.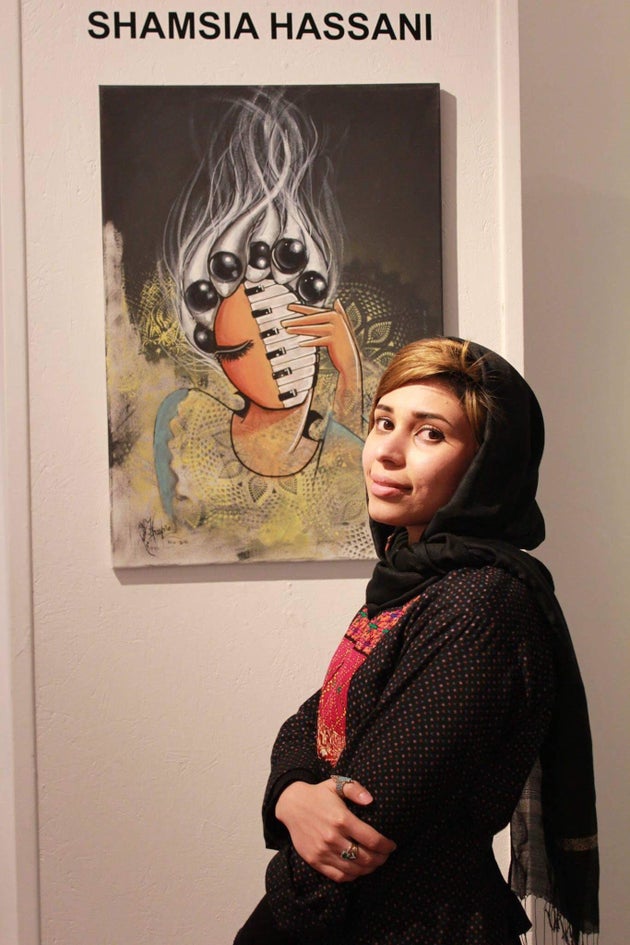 First, Hassani takes a photo of the Afghanistan site she would, in principle, want to deck out. She then enlarges and prints the image, painting her graffiti artwork on top of the photograph. "I paint on the walls of the picture," Hassani explained, her process aptly mirroring her imaginative and persistent spirit in the wake of tremendous obstacles.
After posting images of her work on Facebook and Instagram, Hassani amassed a substantial social media following, catching the attention of curators and gallerists as well. As curator and arts administrator Leeza Ahmady, who researched Hassani's work in Afghanistan, expressed in a statement: "As self-portraits they are representations of the different parts of herself, of her aspirations, her imaginative and playful personality traits, and deep desire to make her mark on the setting of an impressive new young Afghan artistic generation."
Hassani hopes her work inspires younger Afghan citizens, both men and women, to create. She said that although a few street artists have contacted her since her story became well-known, most abandon the practice after a short while, realizing the overwhelming adversity street artists face. "It's 90% bad reaction, 10% good," Hassani estimated.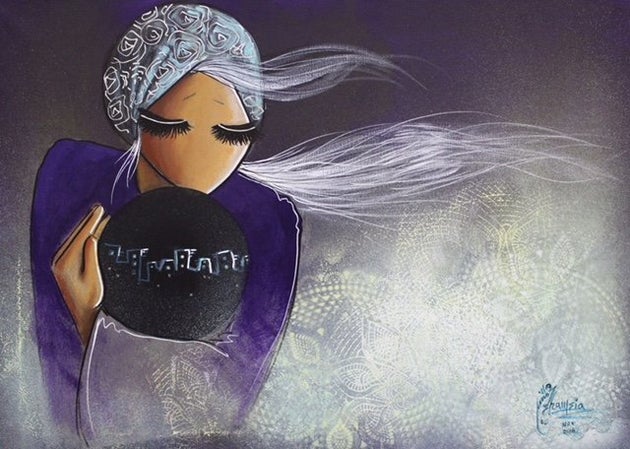 Nonetheless she remains passionate about her vision, and hopeful that her paintings will help inform the outside perceptions of Afghanistan molded from news headlines.
Her most recent series, "Birds of No Nation," addresses the surge of Afghan immigration. "Afghans are leaving their country and traveling thousands of miles away to receive a nationality better than theirs," she said. "Afghan people have grown tired and scared of their nationality. They are trying to change their characters, culture, shape, clothing, and color to blend in with humans from other nations."
The artist hopes her work creates a reason for Afghan natives to return home, focusing in her creative visions on the ways Afghanistan is special, strong, and worth fighting for. "It's true, we have a lot of war and political problems here," Hassani said. "But at the same time, I know there is a lot of hope. I want to show people the good things."
And so Hassani projects the colors and shapes of her mind's eye onto the city itself, physically changing the environment she cares for so deeply. When asked about her aspirations as an artist, Hassani diverted the question. "I have only one hope for now: to have peace in my country. Peace and freedom for my people."
Hassani's exhibition "Prestige" will be on view from Dec. 17, 2016, through Jan. 1, 2017, at Seyhoun Gallery in Los Angeles, and from Jan. 10 through January 16, 2017 at Elga Wimmer Gallery in New York.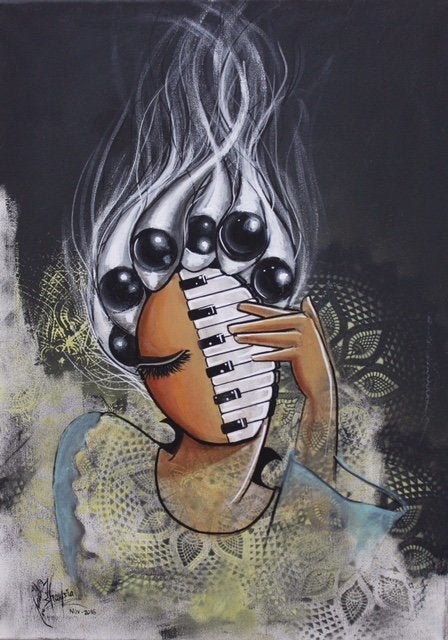 Read more: http://www.huffingtonpost.com/entry/an-afghan-street-artist-boldly-brings-womens-stories-to-life_us_585ad2a2e4b0de3a08f3e759