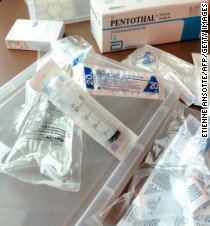 Supporters of "death with dignity" have succeeded in legalizing medical aid-in-dying in five states by convincing voters, lawmakers and courts that terminally ill patients have the right to die without suffering intractable pain in their final days or weeks.
When Gov. Jerry Brown signed California's law in 2015, he said: "I do not know what I would do if I were dying in prolonged and excruciating pain" and that it would be a "comfort to consider the options afforded by this bill."
Yet the latest research shows that terminally ill patients who seek out aid-in-dying aren't primarily concerned about pain. Those who've actually used these laws thus far have been far more concerned about controlling the way they exit the world than controlling pain.
The research suggests that patients' motivations are more complicated than they're often portrayed and could affect or shape how people vote on the issue in other cities and states.
That change in perspective could help explain why some of those who advocate for the right to die, including those who obtain lethal prescriptions, never actually choose to hasten their death, Coombs Lee said. But she said that having the prescription on hand can ease patients' anxiety and give them peace of mind, because they can control the timing and method of death.
Coombs Lee also notes that people can suffer in many ways beyond physical pain. Maynard's brain tumor caused her to suffer frequent seizures, for example. Coombs Lee also described the case of a dying woman who took a lethal prescription after she began leaking fecal matter, which prevented her from ever feeling clean.
Coombs Lee quotes the woman, Penny Schleuter, in her book, "Compassion in Dying: Stories of Dignity and Choice." Schleuter said the pain from her cancer could be controlled. But, she added, "I like doing things for myself, and the idea of having somebody take care of me like I am a little 2-month-old baby is just absolutely repulsive. It's more painful than any of the pain from the cancer."
Coombs Lee said, "everyone who is terminally ill has some kind of nightmare that would be worse than death to them. They want to achieve sufficient control to avoid that nightmare for their family."
Dan Diaz said people shouldn't underestimate how devastating it can be to lose one's autonomy.
"If I find myself in a situation where I can't go to the bathroom on my own, where someone has to change my diapers, where I can't feed myself, where I can't care for the people around me, where other people have to move me around to keep me from having bed sores, I would then submit, is that really living?" Diaz asked.
Some people who pursue physician-assisted death "don't want to be in a hospital, don't want to be connected to tubes," Coombs Lee said. "They say, 'I want to be at home with those I love. I don't want to be delirious or unconscious at the end of life.' Those are all things that play into their fears about what their disease might descend into."
Read more: http://www.cnn.com/2016/11/08/health/aid-in-dying-laws-pain-control/index.html