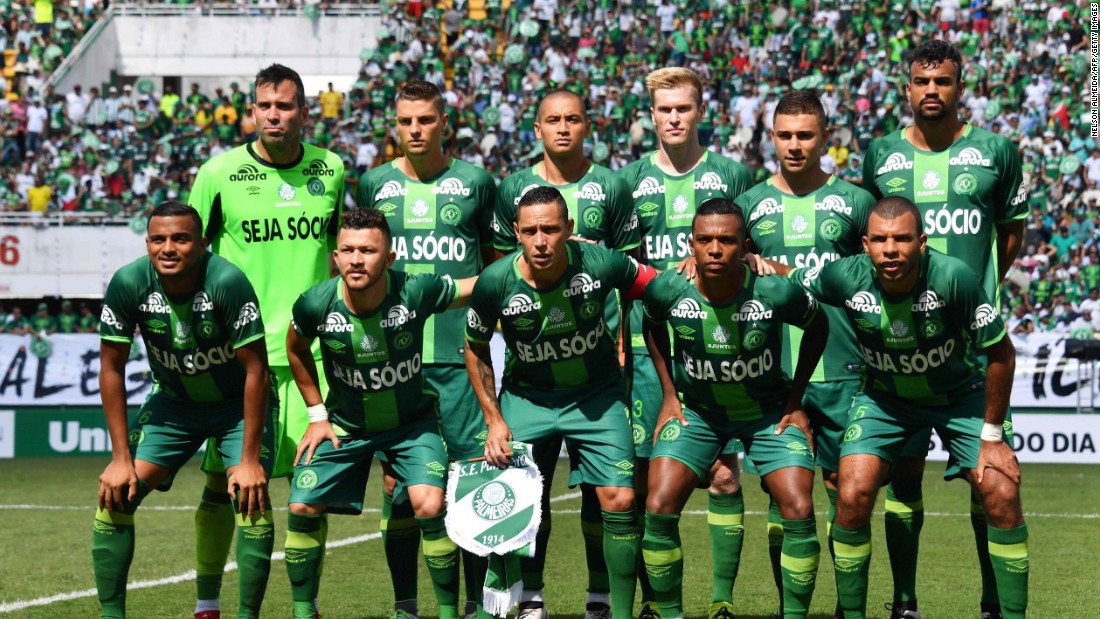 Chapeco, Brazil (CNN)At the game on Saturday afternoon, I was handed a little piece of origami. It had been delicately crafted from white card into the shape of a heart. The crack down the middle was an invitation to break it open and free a tiny message inside. It read "recomear" — Portuguese for "new beginning."
After the cruel tragedy of the plane crash that killed 71 people, the Brazilian football club Chapecoense and its home town of Chapeco are starting again, laying the foundations for what they hope will one day become another fairytale journey to international success.
Chapecoense's stadium was festooned with origami, sent in from all over the world. They were given out to the fans and placed in the press room and players' locker rooms. Inside, a message like 'love' or 'happiness'; mine said 'recomear' – new beginning. #chapecoense #VamosChape #forachape
The black fabric bands that streaked like tears from the towers at the cathedral are gone. No longer does the front gate of every other property offer a message of condolence.
Ever since the plane carrying the team, coaching staff and top officials
plunged into that Colombian hillside
, every challenge facing what was left of Chapecoense has been monumental. The return of the bodies — to that
epic rain-soaked funeral service
— was a Herculean effort. In the last few weeks, they've assembled a squad of players that barely knew each other on New Year's Day.
On Thursday, they'll play their first competitive game together; ahead lies a grueling campaign which takes in three domestic league tournaments, a debut appearance in the Copa Libertadores, a domestic cup competition, an international super-cup match and a friendly in Barcelona. All in, more than 80 games for a group of men who've only just learned each other's names.
For the team, moving on is essential. But such a rapid transition from trauma to tournament is uncomfortable for some of the families, who've barely had time to process the grief.
Amanda Machado had expected to marry the love of her life, Dener. Instead, she had to bury him two days after what would have been their wedding day.
This week, I was with her when returned to the empty apartment where they started their life together with their young son Bernardo. She burst into tears as soon as she opened the door.
Machado says it's hard to see Chapecoense play again and explaining Dener's fate to their son is difficult. "I've told him that Daddy is living in the clouds, but Bernardo says he's just playing football and will be home soon." Professional footballers in Brazil spend much of their time on the road.
She said it was especially tough to see another player wearing Dener's number 6, but she has plans to keep his memory linked to it. She's following through with plans she made with Dener to learn to be a DJ and she has already launched a confectionery business with a friend in Porto Alegre that they've called D6 Doces, or D6 Candy, for Dener's initial and number. And the business's logo depicts the fullback as an angel.
The heartbeat of the club — the locker room and treatment area underneath the main stand — has been transformed back to something resembling normality. Two months ago, it was inundated with grieving families and trauma counselors. Then, the only players in attendance were also stricken with grief. Two months later, the energy is back, the music is pumping in the weights room, the laughter and banter echoes off the whitewashed breeze block walls. Almost all the characters are new, but it feels like a football club once again.
That's the personal goal of Ruschel, who now says he has two birthdays — when he was born in August, and when life began anew after the crash on November 29. "The lesson is that you should try and do good, try and do your best because we don't take anything to the next world," he said.
For all the positivity, the cracks remain if you know where to look. The locker room was the scene of the old team's last — and now iconic — celebration when they were filmed banging their locker doors and chanting "Vamo Vamo Chape!" — "Go Go Chape!"
Ruschel chokes up when he thinks about that, and equipment manager de Andrade says he doesn't have the courage to sing the song. He even fears leaving the sanctuary of the locker room on game days because outside he'll hear what's now an anthem for the fans and it's just too painful.
The shirt numbers have not yet been reassigned — the team played Saturday without their names on their shirts and will do so again Thursday.
Tulio de Melo said the squad would have to agree who takes which number as they can't retire the numbers of the dead "because there are just too many."
He hopes that wearing the late players' numbers would prove a reminder and an inspiration to play well.
So Dener's number 6 will return to the pitch on the back of a new player as well as gracing Amanda Machado's confectionery.
The rebirth will take many forms, but it is coming.
Read more: http://www.cnn.com/2017/01/26/football/brazil-chapecoense-rebirth/index.html