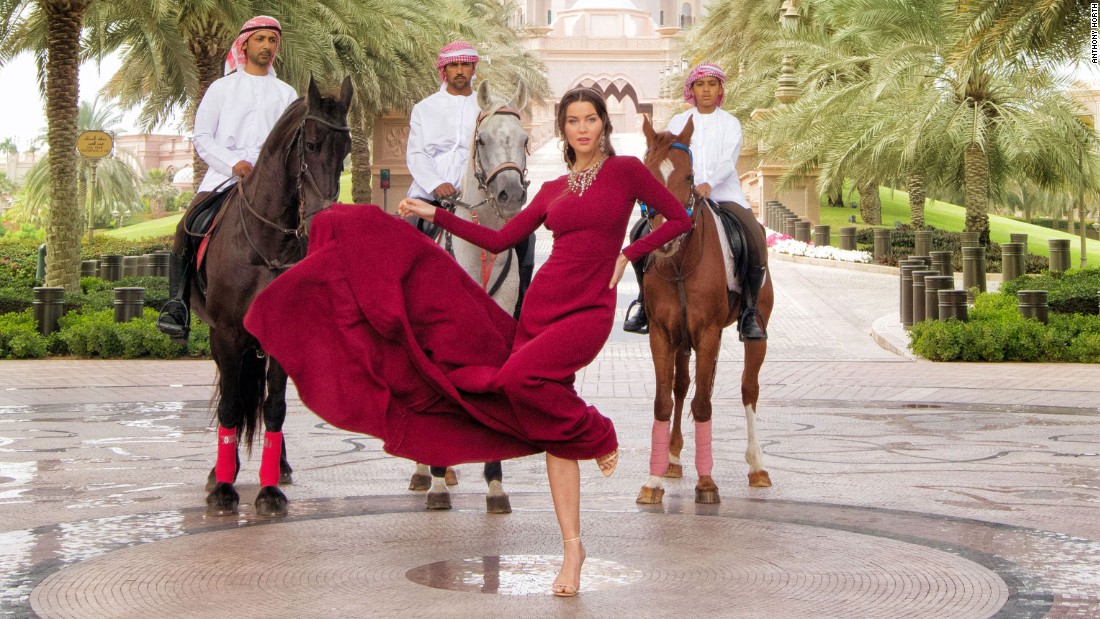 (CNN)What happens when the most lavish and decadent hotel in Abu Dhabi meets an eight-day photoshoot mixed with rare pink diamonds, Arabian horses, trained falcons, couture gowns and international models?
"Magic," says Australian photographer Anthony Horth. "Magic, magic, magic."
Horth, who's previously shot supermodels Christy Turlington, Jean Shrimpton and Eva Herzigov, might be biased. The photoshoot at the Emirates Palace was, after all, his.
Dominating one end of Abu Dhabi's Corniche waterfront, the Emirates Palace is a self-styled seven-star hotel. It's a vast creation, with cavernous palm tree-lined hallways and sweeping staircases, plus numerous high-class restaurants.
Apparently that off-the-charts luxury isn't enough so the hotel recruited a photographer who could spotlight some of the personality behind the glamorous facade.
The resulting images created an Arabian Nights storybook theme, albeit an uber opulent one.
"I didn't want a fashion shoot, a jewelry shoot," says Horth. "It wasn't a Vogue editorial."
Models wore clothing from Valentino, Carolina Herrera, Bulgari and Endemage. Rio Tinto's multi-million-dollar Argyle pink diamonds featured prominently.
In one day alone, a model wore over $20 million worth of jewelry. The single diamond necklace with a delicate Argyle pink diamond sat at $6.5 million.
Every nook and cranny
End-of-year stats from
Abu Dhabi Tourism and Culture Authority
showed a 9% revenue decrease for hotel establishments. Food and beverage revenue decreased by 10%. The number of hotel guest nights decreased by 2% and the average length of stay by 9%.
Does this mean there's a need to drum up more tourism in Abu Dhabi and its hotels?
"Yes," says Schroth. "Every hotel would like to accentuate its uniqueness and drive more tourists to both Abu Dhabi and into their own rooms, of course."
In April, Horth will return to the UAE capital and the luxurious Emirates Palace with "Mother Earth Kimberley," an exhibit of his diamond mine work. The exhibit runs from April 22 until May 6. (More info at
Anthonyhorth.com
).
"Abu Dhabi's close to perfection," says Horth.
"I find the culture very warm. The Bedouin lifestyle, they have a serious 'salt of the earth', everyday practicality. They really want to embrace everything, and I love the mystique. I've seen this side of it, and it's beautiful."
Read more: http://www.cnn.com/2017/02/26/hotels/abu-dhabi-emirates-palace-seven-stars-anthony-horth-photoshoot/index.html