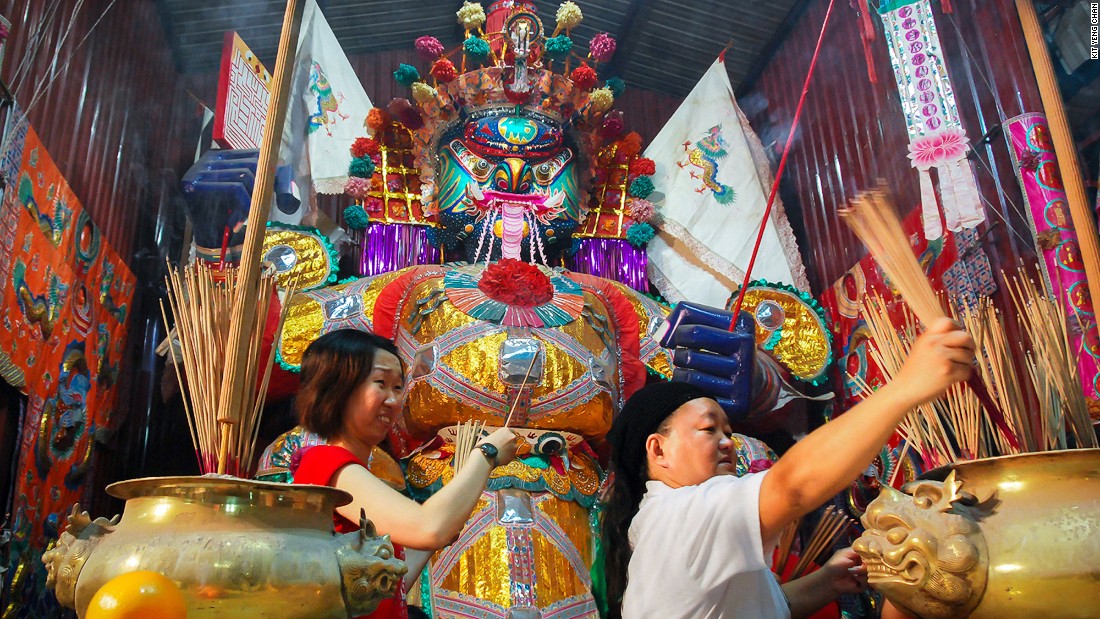 (CNN)Say "Penang" and images of street food and heritage buildings pop into most people's minds.
Truth be told, if I'd spent my eight years living on this Malaysian island just because of the capital George Town's great eats and atmospheric shop houses, I'd either be seriously overweight or completely blind.
Because even without the food and the decadent buildings, Penang is a very special place.
It's also a rich tropical egg-yolk that's hard to break for first-timers.
Here are nine ways to go beyond George Town's gentrified faade and get to know some of the real multi-ethnic, artistic and natural depth that the entire island of Penang has to offer.
Penang's eclectic art scene
George Town's street murals have become a tourist attraction in their own right.
But it's the young international artists behind them who have really transformed the island into one of Asia's premier art destinations.
The local art scene is based out of
Hin Bus Depot
(
31 Jalan Gurdwara, George Town
), a former parking lot turned decadent-chic art and dining space.
"In Penang it doesn't matter where you come from or how long you will stay. Local and international artists collaborate seamlessly," says Wanida Razali, Hin's gallery manager.
Penang's mix of old and new certainly attracts international creative spirits.
"The art scene has many different cliques for anyone to get into, and the island's vibes inspire people to get up and do s—," says Alvin Neoh, a musician, visual artist and manager of artsy bar
Narrow Marrow
(
252 Lebuh Carnarvon, George Town; +60 (0)16 553 6647
), another haven for Penang's creatives.
To Trevor Hampson, who lived in London for 14 years before opening
Run Amok
art gallery (
59A Jalan Timah, George Town
) in Penang in 2014, "the street art put the local art scene out to the general public, but differently from London, the island has many places to meet and mingle with artists who are always ready to strike a conversation."
Ancient stick-fighting
Since 1936 Penang has been preserving silambam nillaikalakki, a traditional Dravidian Indian stick-fighting martial art transplanted from Tamil Nadu.
Grandmaster Dr. Anbananthan, who began studying the style under Madurai-born Asan Mariapakaiam in 1962, still teaches this elegant footwork-based, self-healing martial art.
"We still preserve silambam's 5,000-year-old syllabus, conserving Tamil cultural heritage," says Saravanan Ramasamy, one of the group's senior members.
The best part is that one can study silambam for free on the top of Balai Rakyat Tun Sardon, a community hall tucked away in Gelugor district.
"It doesn't matter where a student is from, because if they manage to arrive here, it means that, like us, they are also looking for the truth," says disciple Aravindan Kamalanathan.
Balai Rakyat Tun Sardon, 25 Pintasan Pemancar 5, Taman Tun Sardon, Gelugor. Silambam training takes place Monday-Tuesday, Thursday-Friday from 7-9 p.m.
Underground music
The south of the island is actually a delightful tropical area where one can visit durian farms, Chinese stilt villages and even swim off decent beaches.
Few foreign tourists seem to know it exists, though.
An interesting Balik Pulau stop is Ghee Hup (MK3, 202A Jalan Tanjung Bungah, Kampung Sungai Penang, Balik Pulau; +60 (0)16 433 6303). It produces nutmeg, one of the original myristica spices native to the Moluccas, cultivated for centuries on Penang.
Balik Pulau town itself is a pleasant one-way street lined with shop houses, a charming clock tower and, more recently, a new breed of mural art by Russian artist Julia Volchkova.
And if by now you really can't stop thinking about food, the coconut-fragrant Siam laksa sold on the streets here is different from anywhere else in Penang.
Penang Hill and Malaysia's smallest national park
Penang's highest point — just a 10-minute drive from Chulia Street — has lush hiking trails all the way down to the botanical gardens and boasts the world's steepest funicular railway.
"We have some of Southeast Asia's rarest flying mammals, including the flying lemur, giant red and black squirrels," says Allen Tan, manager of new eco-park
The Habitat
(
Bukit Bendera; +60 (0)4 826 7677
) , built to preserve and appreciate this 130 million-year-old ecosystem.
For more jungle, Taman Rimba, Malaysia's smallest national park, awaits on the northwestern corner of the island.
Multi-ethnic artisans
Penang's real heritage is not just the food: It's the culture of street artisans and their century-old crafts, which are sadly disappearing in the coils of George Town's quickening boutique gentrification.
There's still a series of old shops where multi-ethnic artisans hand-craft traditional goods, including Muslim skullcaps, Chinese signboards, metal anchors, rattan furniture and paper effigies — think life-size motorbikes, cars and horses — for Taoist ritual burning.
Little India is a good starting point: Next to the Nagore Shrine in King Street, Kedai Songkok OSM Mohd Shariff is the only place left in Penang to find handmade Muslim headwear.
Thaipusam Festival
Few know that Penang has one of Asia's most gruesome and exciting festivals, Thaipusam.
Held during the Tamil month of Thai (January/February), this wild eight-kilometer procession from George Town to the Arulmigu Balathandayuthapani temple on Penang Hill's flanks commemorates the fight between Lord Murugan and the demon Soorapadam.
Devotees pay back granted wishes by carrying physical burdens called kavadis: these range from a simple pot of milk hauled over the head, to heavy canopies made of wooden rods mounted on the shoulders.
At worst, devotees pierce their cheeks and tongues with skewers to avoid talking during the march, or are pulled back with ropes hooked into their bare backs. This year's Thaipusam just ended, but it next takes place on January 31, 2018.
Read more: http://www.cnn.com/2017/02/14/travel/penang-travel-attractions/index.html